Content is the foundation of any B2B business
In this age of digital, everyone is hungry for more information. They look for information to enrich themselves, they research on products and services to ensure they are getting the "best buy".
And they want to know everything possible about the products before tapping on the purchase button.
And that's where content comes into play. Every business on LinkedIn should provide relevant advice, knowledge to their potential customers. Because they want to know MORE before making the final decision.
They want to make sound decisions whether it's through the media or directly on the website or from peer buyers.
The savvy consumers wants to make the most confident choice possible.
Everything possible that could swing from a "yes" to "no.

Why every business should learn to create content on LinkedIn.
Because YOU WANT
more people to know about your business
to convince your prospects to buy from you
existing customers to keeping returning to buy from you
to keep your business at the top of their minds.
And content is just the communication tool to initiate conversations and nurture relationships.
LinkedIn is more than a job seeker's platform
Summer 2017 was LinkedIn's tipping point. The early adopters jumped into the LinkedIn bandwagon and flooded the newsfeed with content. There were text post updates, Pulse articles, link sharing, native videos and pictures.
There were discussions about what was appropriate on LinkedIn, what LinkedIn features users wanted next, even Jeff Weiner, LinkedIn CEO became active on the platform.
LinkedIn was buzzing with activities and communication (almost like Facebook!).
Published content on LinkedIn became the ignitor to begin conversations with strangers on LinkedIn. People we wouldn't normally connect with.
Content is the means to an end

How communication nurture relationships
It's just like friendships or relationships with your family or partner. You need to spend time with them, listen to them, talk to them and understand them better.
If you recall, the last catch-up coffee you had with your friend last weekend - catching up - it simply means you care.
Through each interaction, (hopefully) the bond is strengthened with these sharing of life experiences, challenges and achievements. And not forgetting, the more you know about the other person, the more you trust (or not 😉 ).
Each unit of trust and interaction forms the building blocks of relationship.
And that's what the consumer today is most excited about. They want to have a proper relationships with the products and services they buy. It's not merely a monetary transaction.
By using content as a communication tool, businesses get to know what their customers are most concerned about, what are their priorities, what they are most interested in and subsequently create events, products, services, giveaways to engage and bond. And resonate.
Broadcasting your content is insufficient!
Most people who started out might have this assumption that it's enough to post content on LinkedIn and go away. And somehow magically, the relationships will be formed. I can assure you, there is no magic.
If you check out the big guns like Marie Forleo and Gary Vaynerchuk, they both have teams to ensure the conversation doesn't stop after their content is published! Vaynerchunk has TeamGaryVee to ensure every question is picked up while Marie has Team Forleo answering to each comment on her blog and video posts.
You don't want the dialogue to be one-sided. You want an exchange of thoughts. You want your audience to know, you are listening to them.
If you want to know more about initiating dialogues and furthering a conversation, check out my LinkedIn commenting strategies on how best to engage and nurture relationships.
Best way to increase LinkedIn connections? Secret revealed!
Five types of content on LinkedIn
Text post update/Pulse articles
This is the most basic format and leaves alot of imagination space to your readers. The words and phrases you use might mean one thing to you but visualized different by your readers based on their knowledge and experience.
Pros: It's easy for anyone to quickly scan through the text and read it. Especially for people who are tight with time.
Cons: The same sentences voiced aloud compared to just pure text could have an entirely different meaning dependent on the tone of voice and cultural beliefs. This could easily result in misunderstandings.
Picture post update
A picture is equivalent to a thousand words. Whether it's a picture of you grinning away, or your favourite drawing or a quote by someone you look up to, it gives a glimpse into your personality.
It reflects a small piece of you - what you stand for, what inspires you and what drives you every single day.
Pros: If you add in some descriptive text to accompany your words, this enhances the effect of your message and help others to understand from multiple perspectives.
Cons: If you only share a picture without any words, the interpretation of the message is left up to the reader. In this way, there is lower likelihood of the exchange of ideas because there is limited thought exchange.

Link post update
You could be sharing a link to someone's article. Regardless whether you are spreading the word around or a link to an share-worthy article, it showcases your interest and opinion.
Pros: This is a great opportunity to voice your thoughts about a particular topic, trend or an issue. Whether you support it, or disagree or you have an alternative viewpoint, it allows you to portray how you think and your values as an individual and professional.
Cons: Many people tend to just share the link to a post update on LinkedIn or an external article WITHOUT explaining why it resonated with them in the first place. It defeats the purpose of creating a communication channel because your readers don't quite know how to respond to what you are sharing.
Video post update
This format is much better than pure text or picture or link sharing update. It gives a tertiary dimension to the interpretation of a sentence or question. The tone, speed, pitch of the voice enhances the speech delivery and offers a stronger delivery to the audience.
And the video showing your expression solidifies the strength of your message. Your laughter, the twinkling of your eyes, twitch of your lips and even the gesturing of your hands and body speaks volumes - these non-verbal signals speak for themselves.
As far as possible, include accompanying text above the video and corresponding subtitles so people who can't load or play the video won't be left out.
Pros: This form of content sharing is the closest to meeting someone face to face. It is a fantastic opportunity to demonstrate your energy level and your personality. It's also more intimate & shows the authentic you!
Cons: There tends to be a inclination of sharing videos from external sources similar to what people does on Youtube. Unless it's a video reflecting your brand or a video of you or your team, it downplays the impact of connecting to your audience in comparison to sharing original content created by yourself or business.

Document post update
This is the latest content type rolled out by LinkedIn late 2018. It allows you to share your expertise via a document that can help you generate new opportunities for your brand or business.
The document you want to upload in a post update can be in PDF, Word document, or PowerPoint format. I highly recommend you to add your business logo on each page to make sure it can't be easily copyrighted and keep your brand name visible.
Check out my document post where I shared my #INBOUND19 event cliff notes in a 6 page PDF file and recorded over 7,000 views from 78 likes, 26 comments and 4 shares.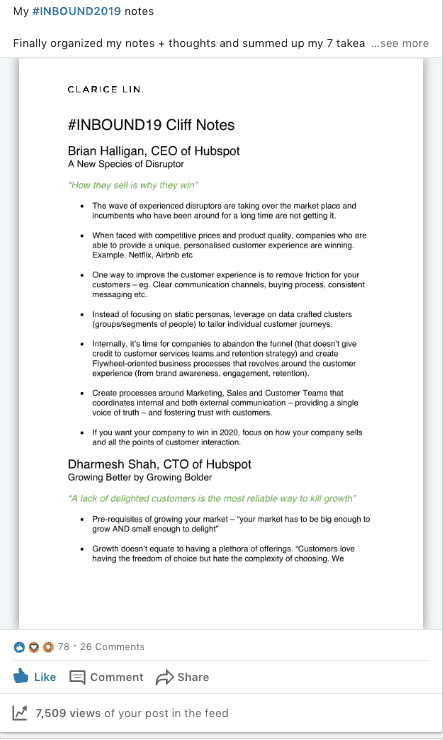 Pros: If you aren't ready to leap into video creation, documents is another way for you to showcase your knowledge and provide value. It doesn't have to be a 50-pager piece of work. It can simply be a one pager checklist or a repurposed blog post.
The key here is usefulness to your potential customer. Also, it's more likely to be shared by folks on LinkedIn.
Cons: You can't just post a document by itself, writing a good accompanying text to get the right people's attention is crucial. It requires a little more work compared to just writing some text.
And the layout and presentation (especially the cover) has to be attractive enough to catch the eye.
Live Video Post update
LinkedIn offers live video streaming options for the community. However, right now not everyone has the capability enabled. You have to apply to become a live video broadcaster and then wait to be notified.
To livestream on LinkedIn, you have to sign up to third-party tools and connect it to your LinkedIn account.
Right now, these are the available tools you can choose from: Socialive, Restream (that allows you to stream to Periscope, Youtube and even Facebook at the same time!), Wirecast, Switcher Studio, Wowza Cloud, StreamYard, Brandlive, Easy Live, Live U and Terdek.
Pros: Live video is a great way to interact with your audience in real time and get your audience to know the real you in more than 10 minutes (limit of the video post). You can answer your audience's questions on the spot and allows you to showcase your domain expertise.
After your live stream has ended, the video will be saved like a normal video post in the feed.
Cons: Not everyone has time to hang out on LinkedIn to watch your live video (Keep in mind - this is after-all a professional platform.) You've to make sure you notify people in advance when you are going live, so they can log in at the right time. Note: you might also get people unfollowing your going live notifications keep popping up in the feed.
Advantages of alternating your content type
There are groups of people who prefer creating a certain type of content types. For copywriters or authors, publishing text only post does help to boost your authority as a creative writer and the flow of your ideas through words.
And indeed, most people do have a preferred way of learning, either listening to audio, watching videos or reading.
However, when you publish only a singular format only, some groups of people will be left out! 😣
Alternating between the five different delivery content types caters to various learning styles. All these help others to get to know you better!
Nonetheless, do bear in mind - videos take longer to load on the mobile or when the internet signal is weak. In certain countries, the bandwidth might be insufficient to load the videos.
And do make an effort to add in subtitles for those who are on the move and doesn't want to turn on the volume or those who have hearing problems.
Don't forget, there is also a group of people on LinkedIn who prefer reading text as it's much quicker to skim through than watch a video. So it's worthwhile to add in text to accompany your videos as an alternative.
All in all, I definitely advocate to mix up your content type regularly!
What's the best content to publish on Linkedin in 2019?
Measuring your LinkedIn progress
Once you are ready with your LinkedIn content types and key messages, do track your progress. On each post update and article, there are a couple of key metrics to watch out for. They are number of views, likes, comments and shares.
For each piece of content, record your numbers to get a clear picture of what content speaks more to your audience.
There's an assumption that keeping track of your post views is unnecessarily. In their words, views, likes, comments and shares are vanity metrics. We shouldn't be concerned about it at all.
I beg to differ. Measuring the performance of your content provide a clear picture of what works and what doesn't.
If what you are doing isn't working, stop doing it! If what you've been producing connects with your audience and get positive responses, do more of it!
It's that obvious!
Ready to amp up your LinkedIn presence?
If you are serious about LinkedIn marketing and want to craft out a content plan, I offer a personalized coaching plan to amp up your LinkedIn game and publish quality content on a regular basis.