Imagine this, potential customers go to Google, type in their query and your blog post shows up on Google search results page one. They click on it, read it and decide to buy something from. The perfect scenario for any business owner. 😉
How do you exactly get on page one?
The first is by paying Google to rank higher - that's what's also known as Google ads. It's not a cheap option and it's difficult to sustain over long periods unless you have deep pockets.
The second option is by blogging - getting your articles to rank "organically" without having to pay for ads.
In this article, I share a case study where I helped a client to get her blog articles onto page one and generated over 6000 monthly visits to her website - and getting prospects that filled up her sales pipeline over a 19-month period!
Spoiler alert: This is a long read so if you don't have time right now, do bookmark this page to dedicate more time to read it in details.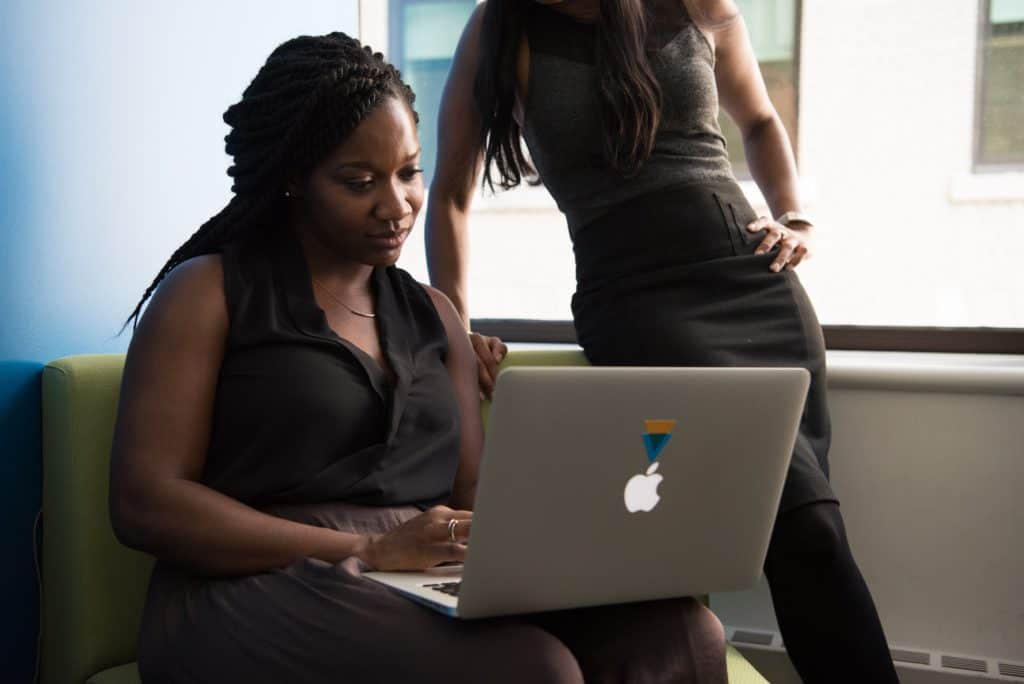 Table of Contents
Starting a business blog from scratch with zero traffic to Google page one
Growing a blog for your business is one of the most cost-effective long-term strategies to generate leads from Google organic search traffic.
I'm not just talking about leads. I'm referring to high-quality leads - people who are likely to purchase from you.
And because the majority of people only click on links on search results page one - and you want as many clicks as possible - getting (all!) your blog posts ranking on page one is your ultimate goal for your business blog.
The beginning: Zero Google Traffic
Back then, my client had zero Google traffic.
We had just completed her website makeover and one of our long-term cost-effective strategies was to build up her presence on Google through articles and get new clients from Google search.
Her business was well-established for over a decade and relatively well-known in the local area.
At that point, she acquired most of her leads offline and had a minimal online presence. i.e. Nobody outside that city knows about her.
The goal was simple: publish blog articles that will rank on Google search results page one and attract leads to fill up her sales pipeline.
Due to time constraints, we chose to publish one blog post each month instead of putting out one article every week.
BUT, this one piece of monthly content has to be exceptional - to stand out from the existing online articles.
A one of its kind.
The plan was pretty straightforward.
Our blog strategy: Create blog posts related to queries her prospective clients would be searching for.
Get Google's thumbs up: craft superb articles that make competitors' articles pale in comparison and "convince" Google to showcase her blog posts on page one.
Help Google to understand the essence of her articles as quickly as possible: optimize each piece of content where possible to "inform" Google, "Hey, this is a top-notch piece to show to Google's search users".
Review and monitor the article's performance and identify easy opportunities to improve the article's ranking
Repeat it every month for each new article.

The 19-month journey to get to the top of google search results
Three months after pushing out the first "A+" article, we started seeing significant Google traffic.
The piece of content contained over 2,500 words. It was a niche topic that had NEVER been covered that extensively by anyone else online!
When that happened, the website began getting 10 daily visits from Google search users.
In the meantime, we chugged along with putting out one article per month.
In the 12th month, we had 2 more blog posts ranked on page 1! 🙌 🙌
Daily visits from Google searches went up to about 100 - 10x more!
It was that moment when prospects began reaching out to my client!!
We trudged on with our content strategy - with some tweaking to boost the articles that were already on page one!
The tweaking included adding key phrases and keywords in sub-headings without sounding like a parrot (i.e. unnecessary repetition) and also cross linking of existing blog articles to the "new-born" articles.
After 19 months of finesse planning, research & promotion, daily Google search visits rose to 200! 🙌 🙌 🙌
More and more blog readers signed up to my client's email list and a percentage of them became paying customers after multiple interactions via email campaign marketing.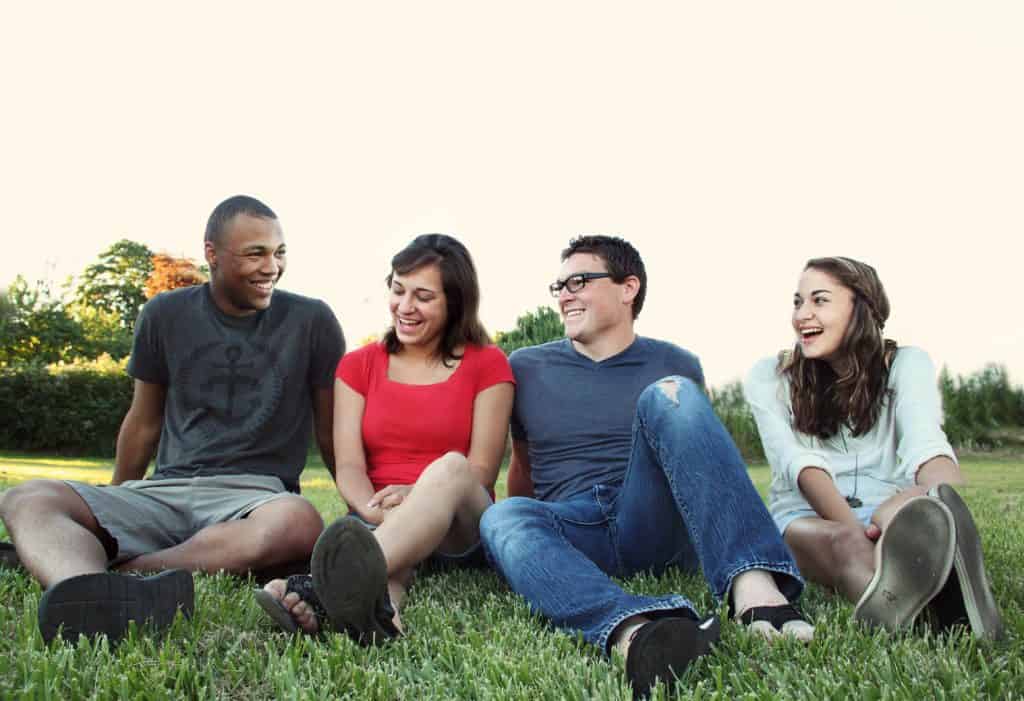 Why Google (not Bing) and the way into Google's heart
Before I go into how you can get your blog into Google's heart, let me explain exactly the connection between Google and your blog
The primary purpose of growing your blog is to get NEW customers through search engines like Google, Bing, Yahoo, Yandex, DuckDuckGo etc.
However, because more than 75% of the online population use Google to find their answers online, most people are more concerned about increasing visibility on Google page one rather than Bing search results page one.
Backlinko researched 5 million Google search results and they found:
👉 If you are ranked no. 1 in Google's organic search results, for every 100 impressions, 31 users click through.
But if you're at position number 2, you're only likely to get about 24 clicks to your web page.
Many Google users tend to instinctively click on the first result they see..so if your article is at position 1, it's more likely to get seen.
👉 If your blog post is shown at no. 1, it's 10x more likely to get a click compared to if you are ranked on #10.
If your blog post has just moved to page one, don't be complacent. Investigate the possibility of moving up the ranks - as near to position 1 as you can.
👉 Top 3 Google search results get 75% of all clicks
The need to secure a spot on search results page one is a no brainer. And you want to only be on first, second or third (as much as possible!).
Can Blogging Still Get You Leads in 2022?
Is it still possible when there are already so many people blogging away?
Of course, there is! Don't let anyone else tell you otherwise!
Blogging will get you leads as long as there exist people who use Google to find answers to their questions.
Blogging is a channel to provide answers to your potential customers and also a way for search users to find the path to your doorstep, so to speak.
From the case study example, it's an obvious fact that - it's possible to generate leads from blogging.
The only thing that has changed since blogging became a thing from over a decade ago is -
You can't just focus on the writing - being strategic about what you cover in your blog piece is key.

It's impossible to generate leads from the first day you start blogging! Convincing Google to show your articles on page one is a medium to long term project.

Publishing articles of average quality will NOT get you anywhere. Each piece of content you publish should exude authority and knowledge.
Churning out articles in bulk is NOT good enough to fill up your sales pipeline.
In 2022 and beyond, it's mandatory to have a blogging strategy - also known as a content strategy to rise through Google ranks and outperform your competitors.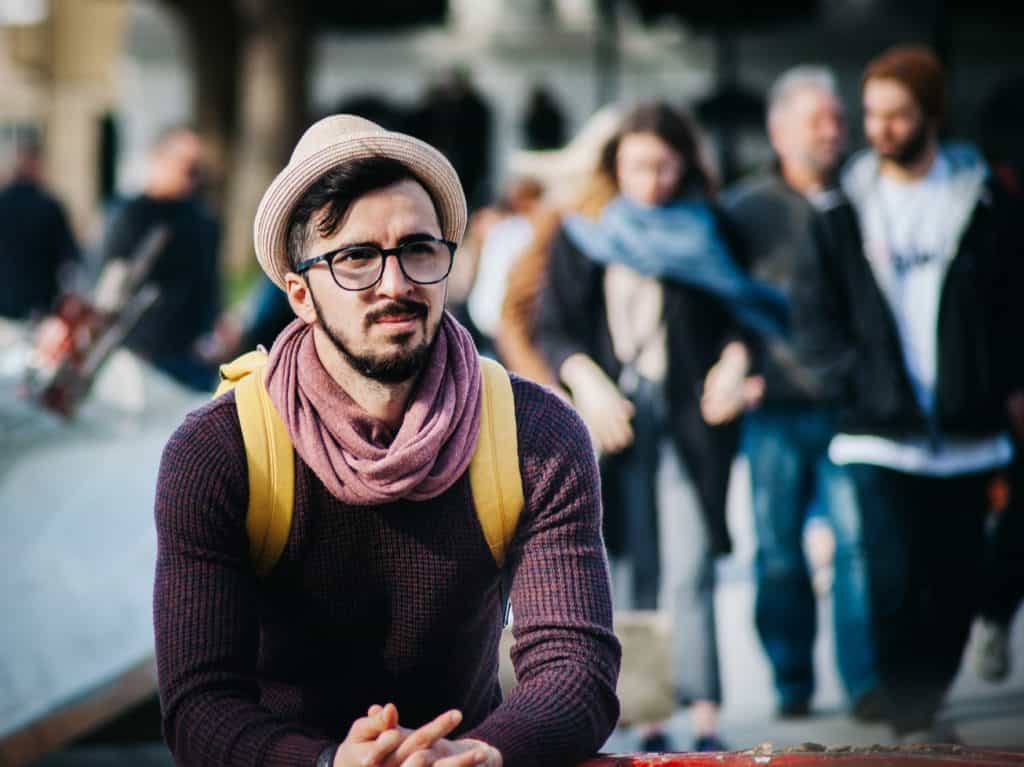 Debunking the 3 Blogging For Business Myths (that will not get you on Google page one!)
Despite blogging being known as a business tool to attract leads, many people still don't quite understand how blogging actually works.
Let me debunk three of the most common myths for you.
Myth 1: The more I blog, the more likely I will get on Google page one.
This is a typical beginner blogging 101 mistake. If you are new to the world of blogging for leads, it's understandable.
BUT if you've been blogging for a while and you are still not getting any incoming enquiries, chances are you aren't doing it right.
And it could be either one or more of these reasons.
Your articles includes the right keywords but are not on (or near) search results page one.
According to Hubspot's research, 75% of users never scroll past the first page of search results.
If none of your articles are even near the first three pages, your article snippet - also known as the title plus meta description - didn't get any eyeballs at all!
This is how you can resolve this problem.
First, find out who is in position one for these key phrase - review your competitors' content and find out why they are doing better than you.
Then figure out how you can do better than them and overtake them.
It will also be useful to use Google search console to review your article rankings, understand the gap between you and your competitors to figure the next steps.
Your articles are found on page one but are found for the wrong keywords
If your articles are on page one, congratulations!! But hang on a minute, are your articles found for the right keywords?
In the search query - the words or even the number of words that a person keys into Google give some clues into what this person is looking for and whether he or she is interested in buying a product or service.
If your articles are found for the wrong keywords, this means users are discovering them for the wrong reasons and have a totally different intention from what you were expecting a prospective buyer to be looking for.
Your articles are beyond pages 1, 2 and 3 and they are ranking for the wrong keywords
This is the worst possible scenario. That basically means you were blogging for naught.
Those hundreds and thousands of words you've poured your efforts into were never going to get you any new website visitors, not to mention any customers.
In other words, you were flogging a dead horse.
Going forward, if you are still pinning your hopes to fill up your pipeline through blogging, it's time to get external guidance into what topics you should be writing about.
Myth 2: I'll write about the latest news and trends
If 99 other more well-known and established websites published a similar article to yours, I'm afraid your new article will never stand a chance to see the light of the day.
Those 99 other websites have a longer online presence, have published more articles around the same theme and have more people visiting their website.
Their long (er) history makes Google see them as a reliable trust-worthy source of information. In contrast, Google isn't familiar with your blog (yet) - it might take a while before your "trust-worthiness score" goes up.
Furthermore, by the time your score goes up, the (new/trending) article you've written is probably outdated and people would not be as excited as before about the topic.
The recommended way is, especially when you are just getting started - to write pieces of content that will stand the test of time. The word for it is - evergreen content.
Even if someone reads it in 6 months' time or in 12 months' time, it will still be relevant for the reader.
Myth 3: I'll repeat the keywords many times in my article
Please DON'T ever do that.
Many people assume that if the keywords are repeated many times in the article, Google will automatically presume this is the most useful article about the topic. Unfortunately, they are wrong.
It's useful to weave in related keywords multiple times in your article - to tell Google - this is the topic you are writing about.
But add in only as "many" as needed - when you overdo to try to cheat the algorithm, Google will find out.
Before you came onto the blogging scene, there were predecessors before you who've tried cheating the algorithm, and since then Google has upgraded their algorithm's intelligence to spot this manipulative tactic and hand out the necessary penalization.
So, you might ask, how many times is "too many"?
Read your article out loud - do the keywords sound repetitive? Are you beginning to sound like a broken recorder?
Is it absolutely necessary to repeat those phrases or can you replace them with alternative expressions?
If the sentences don't sound like how a normal human being would talk to another, you've probably overused those words.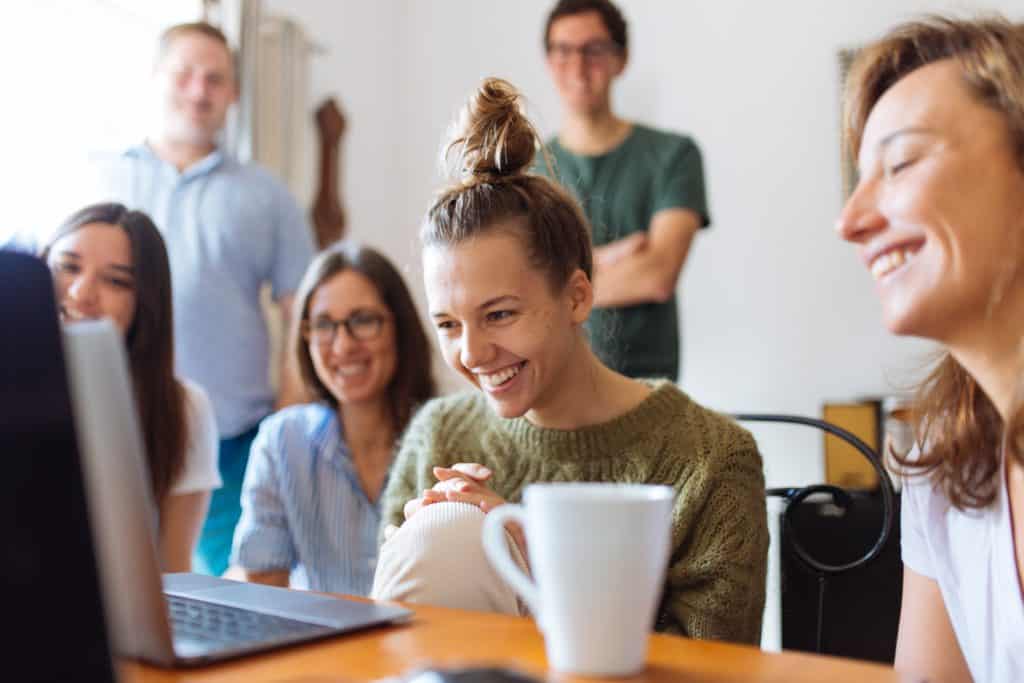 The Ultimate Blogging Strategy to get you on page one of Google
Rounding up the lessons from my client's blog, I'm going to lay out the step by step process on how you can also build up a solid foundation for a successful blogging strategy.
I've to emphasize, you should always strive to improve the quality of your articles by regular review and updates.
And if there are any new material available that's closely related to the topic, put them in!
Map out your content strategy with a scientific approach
Having a list of topics on what you plan to write isn't sufficient. The efforts from your writing should result in eyeballs on your blog.
This means you've to be strategic about the topics you write about. Begin with niche topics (you can also call it a specialization) rather than a general area of interest.
These topics should ideally align with the products or services your business offers.
The objective of each of your articles is to attract readers to discover your business and realize what you are selling is one of the top solutions in the industry.
After one or subsequent interaction with your content, they proceed to shortlist your products as one of their purchase options.
Let me give a few examples of specialization.
If you were running a salon, you could blog specifically about care and maintenance for afro hair care rather than haircare for everyone. This would attract customers from afar because afro hair is not easy to handle.

If you were running a restaurant, instead of offering generic Asian cuisine, becoming well-known for delicious Vietnamese dishes, would specifically attract Vietnamese food lovers. In your blog, you could share about the cultural aspect and the relationship with the food.

If you were in the accounting software business, you could offer exclusive services for startups. On a blog, you could publish tips on how to set up and balance the accounts for a startup company.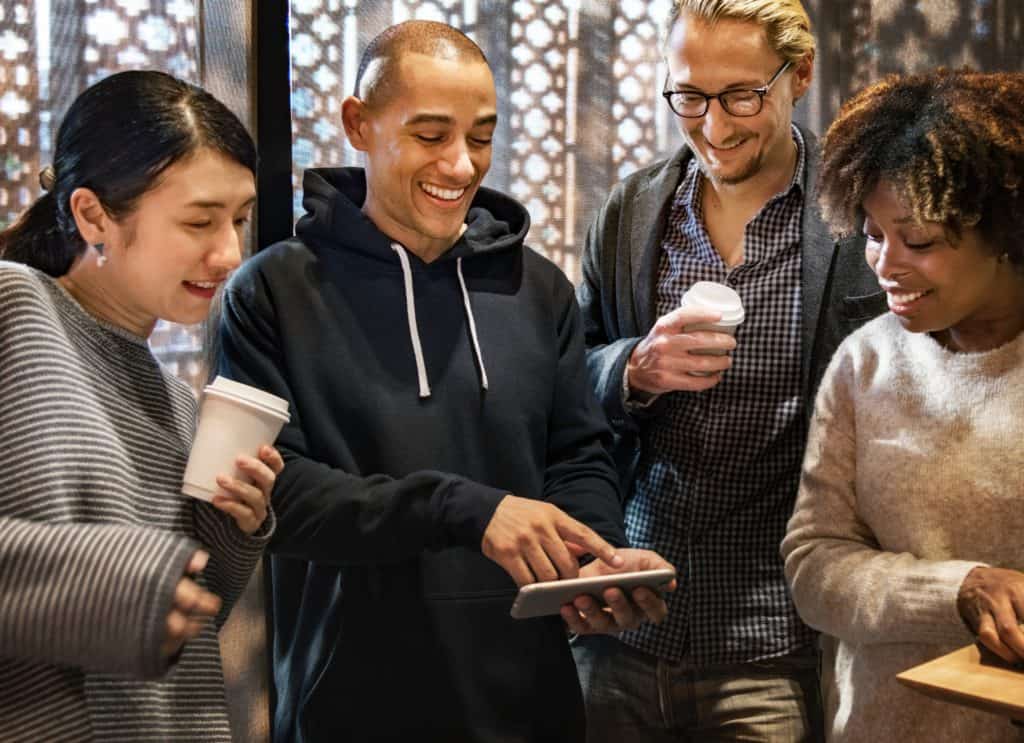 Content Strategy Research Tools You Need to get high Google rankings
Once you've decided on your niche, head on to Google to do your research! Find out what are the top associated problems those people face and give them the answers in your blog posts.
These are a couple of FREE content research tools you can use:
Google search
It's obvious - to rank well on Google, use Google!😉
Google search is a free tool and super straightforward to help you make your blog post more exhaustive by injecting related details for a topic.
How do you use it?
Type in the keywords: "afro hair care". Tap on search.
On the results page, scroll down to the section "People also ask". This is the section which Google presents the top questions around the topic "afro hair care".

To get a clearer idea on what other questions could be relevant, click on the arrow of each listing to expand more related questions.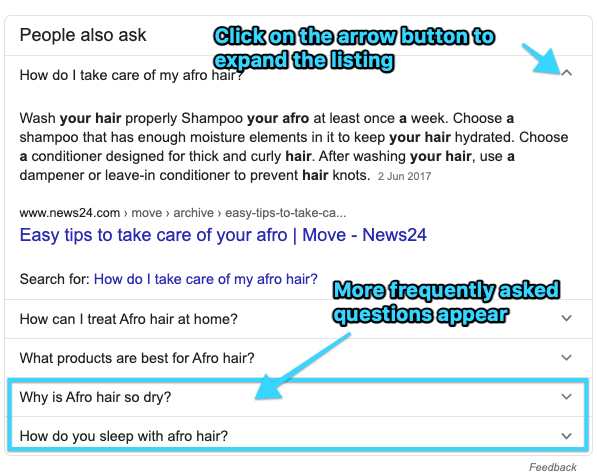 Keep expanding on those listings and more closely related sub-topics around "afro hair care" will pop up. Gather all of these together and group them into separate blog topics.
Once you are done, scroll right to the bottom of Google search results page. Look at the section "Searches related to". Note down these topics as well and consolidate them with the questions you've collected earlier on.

Answer the Public
AnswerThePublic is a goldmine of content ideas. The tool uses autocomplete data from search engines like Google then quickly churns out every useful phrase and question people are asking around your main keywords.
For the best results, key in 1-2 words and it will show you a full list of ideas that covers questions, prepositions and comparisons around your search terms.
See the example of an abundant source of questions around "vietnamese food" to create fresh, ultra-useful content around this topic.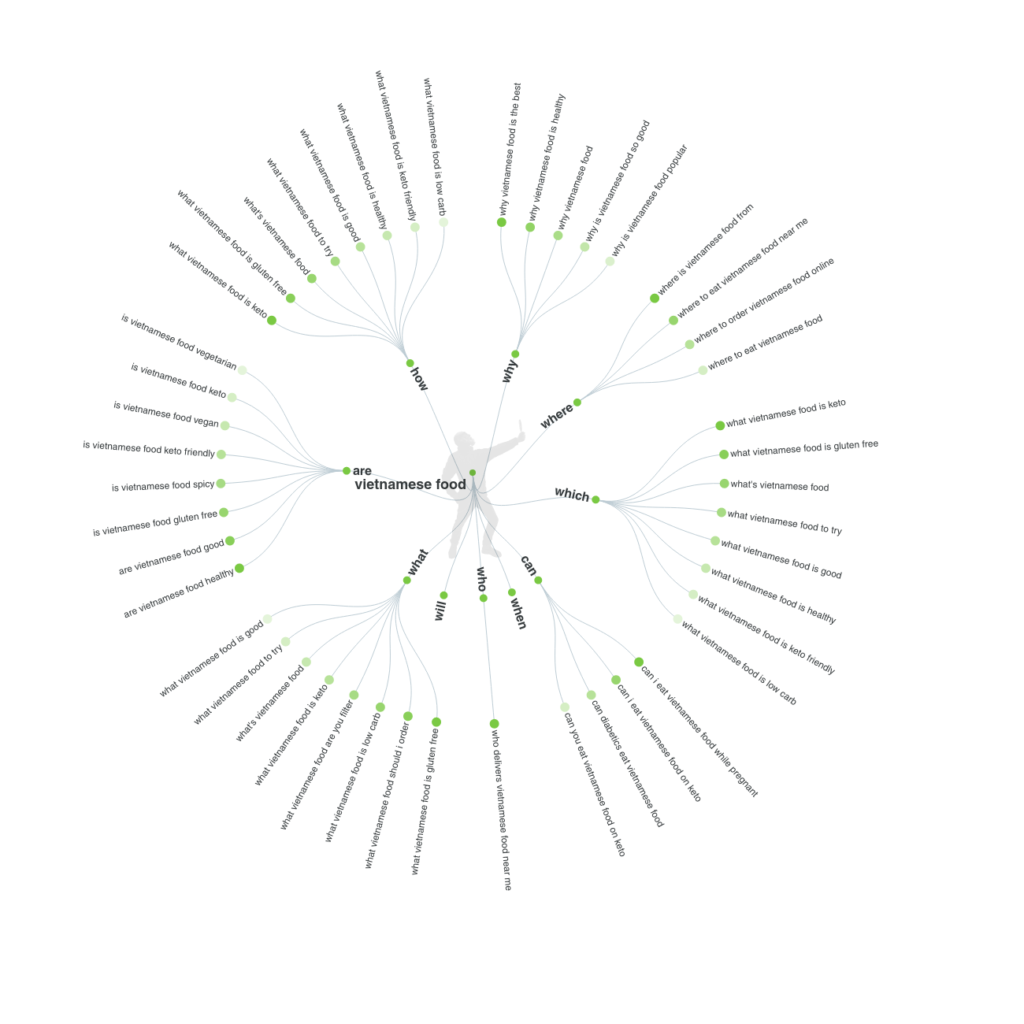 Decide on your publish schedule
You can either choose to publish a weekly article or once per month. A weekly schedule is great for getting faster results compared to just 1 article every four weeks.
However, keep in mind - a monthly publishing schedule does NOT mean your articles wouldn't get to google search results page one.
For my client, we were on a monthly rhythm and although it took a long time to have multiple articles on search results page one but still, we got there eventually.
In general, the time needed for your articles to surface on google page one relies on how often you blog, the quality of your article and of course, how competitive your industry is.
On average, a new blog could take about 3 to 6 months for one or more articles to climb to the top of the rankings. Especially if you put out a new blog post every week.
The purpose of fixing up a schedule is to create a flow of consistency and momentum.
Without a fixed schedule, most people tend to push this task to their back burner because there is always something more pressing and important on hand.
They forget that building a blog is a long-term lead generation strategy. Despite the slow start, the blog can rapidly grow exponentially when a certain threshold is achieved.
After you've decided whether to go for a weekly or monthly schedule, stay patient with your progress.
In essence, a weekly publication schedule might accelerate the rise to the top beyond the 3-month mark whereas a monthly schedule might require more time to get Google to acknowledge the authority of your content in your space.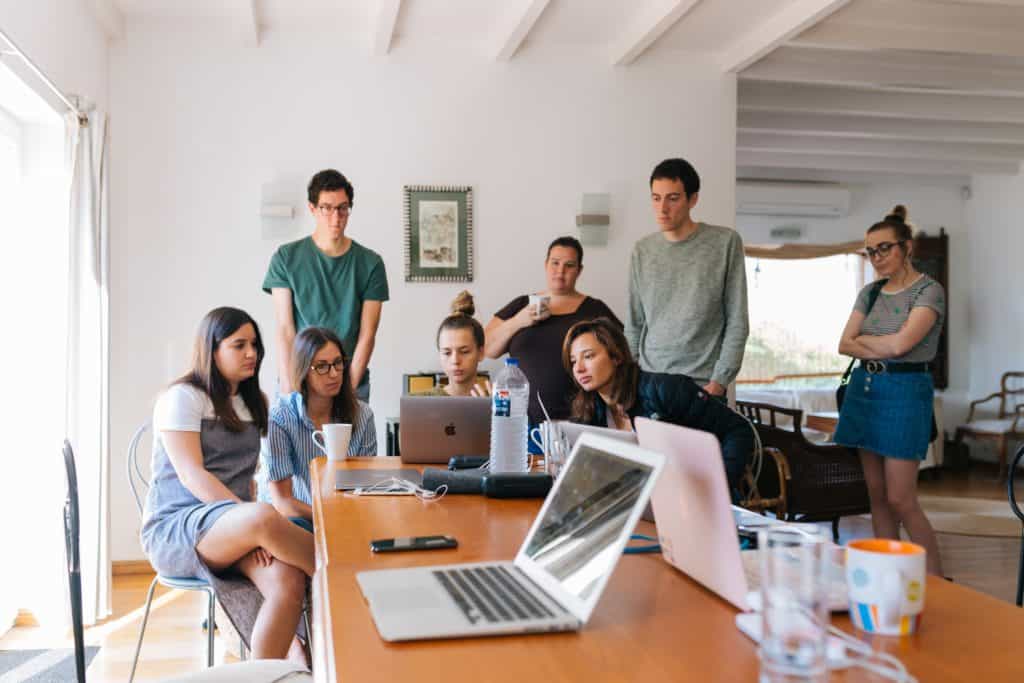 Create outstanding articles (that Google can't ignore and make your competitor's articles pale in comparison)
Writing and publishing an article isn't difficult. Anyone can write.
But, writing and publishing an outstanding article that Google can't ignore is CHALLENGING!
If Google ignores you - in other words, place your article far far away from search results page one, you've just wasted your time.
Each piece of content is A chance for you to shine. Especially your first couple of articles on your blog.
Because Google doesn't see your blog as the number one source in your industry, so it's your job to prove it to them.
And the way to do it is to keep pushing out first-class content.
You might ask, what's Google's definition of first-class content?
It can be broken down into two parts.
The first part is out of your control and is totally dependent on how many businesses have also written about the topic (that you want to compete with) and how well they have written about it.
Not quite following?
Let me share an analogy:
Have you tried running a 100m sprint and time yourself?
The fastest among "normal people" takes between 13-14 seconds. That might sound fast, but the Olympic qualifying time for London 2012 was 10.18 seconds in the men's race and 11.29 seconds for women.
This means that if you wanted to qualify for the 100m sprint in the Olympics, you would have to shave off 3-4 seconds to qualify for the race!
So to speak, if you are blogging in an "Olympic-level" industry, it will likely take more effort and time - to get to the top.
And let's say, there were many athletes who qualify well below the qualifying times, it means you have to work harder and be better to somehow get into the last 8 spots in the 100m finals! (Pun unintended 😉 )
Of course you can't control the number of people who join the race and how fast they run - the only thing within your control is how fast you run to outperform them.
In blogging, you've to create the most outstanding article such that Google acknowledges your piece is so much better than the others by putting it on page one when users query about this subject.
The criteria for an A-class article - using the right keywords and phrases associated with the subject matter and answering more relevant questions about the subject.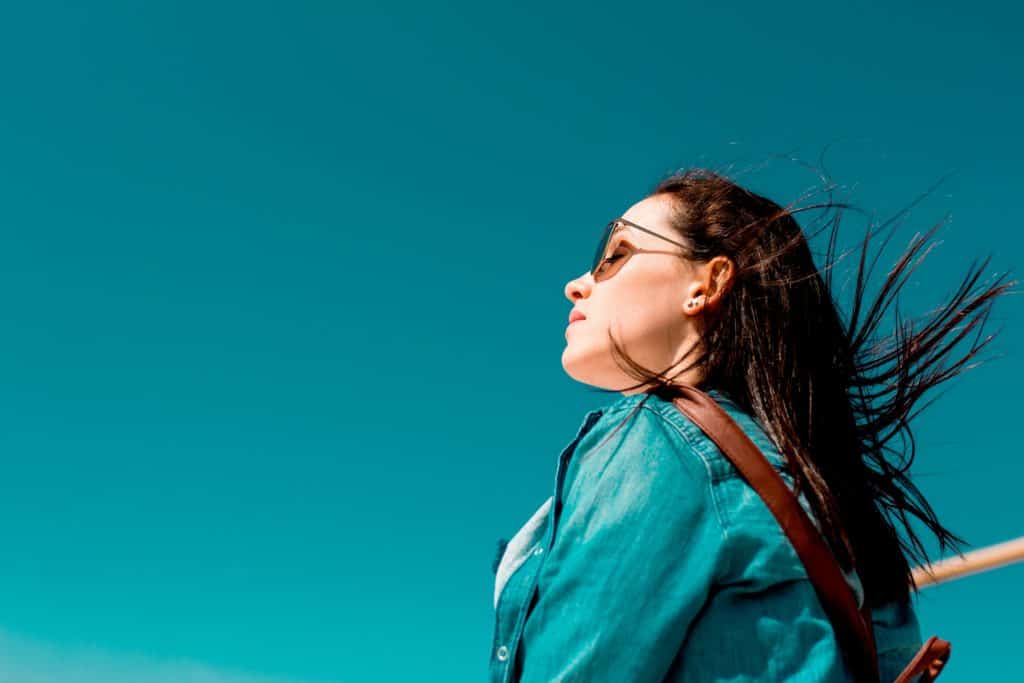 Add in a call to action in each article
At the end of the day, each piece of content is meant to foster trust with your reader, help them to solve their problems and learn more about your business.
Most people assume the readers will "intuitively" go on to check out their products by themselves after reading the blog articles.
They don't realize sometimes embedding a little nudge - otherwise known as a call to action - can go a long way.
In each article itself, simply add a link to one of your products and explain how this will solve the problem mentioned in this particular article.
Tell your readers - you offer both the knowledge and expertise (or product) that can take away their pain (problem) - and they should definitely consider buying from you.
If someone has taken the time to read your article from beginning to end, and have gained insights into resolving their pain-point, it's highly plausible they are open to a product introduction and recommendation from you.
This is the best time to "sell to them"!
Telling your reader where to go next at the end of your article helps clarify the buyer's journey. If they were prospects, this prompt saves them time and brings them directly to what they were looking for.
If they were still contemplating whether to buy, the call-to-action (CTA) inspires them to act beyond reading.
Instead of asking prospects to buy immediately - if they weren't ready in the first place, you can implement a no-pressure softer approach with phrases like:
Learn more...
Discover...
Check out...
Try it out...
Sign up for free...
Get a free trial...
Explore the...
Download my FREE ultimate guide...
For my client, we had two clear objectives for our reader-to-prospect blogging strategy - either to get the reader to contact my client or to get their contact details.
At the end of each blog post, we asked the reader to check out details of related services if they require personalized support and also embedded a call-to-action image to get a free checklist in return for their email address for future correspondence.
Make every blog post count.
If you are not proactively doing something to get your blog readers to turn into customers, then you might.as.well.not.blog.at.all.
Please re-read the previous sentence.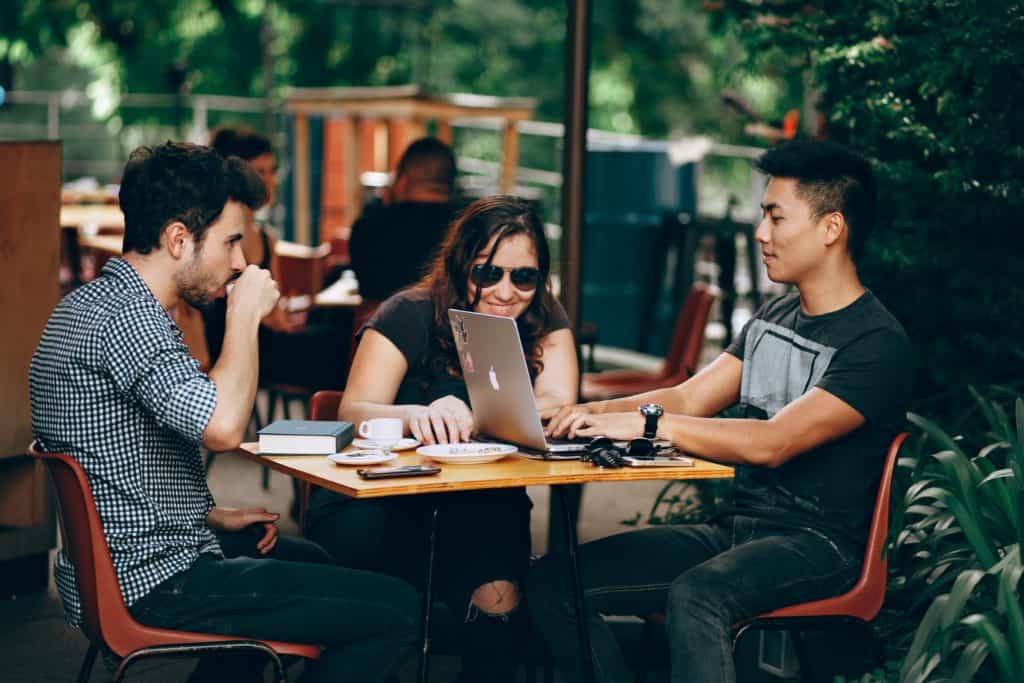 Promote, Shout out - tell everyone each time your new article goes live
Before any of your articles is "deemed worthy" by Google to be shown on page one, BE DILIGENT in promoting your own articles.
Whether it's blasting an email out to your subscribers or sharing it on social media, the ultimate aim is to get people to your blog! Get them to share with their friends - get as many people as possible to read your articles.
Part of my blogging strategy (for my client) included a two-prong approach promotional strategy.
Each time an article was out, we would publish a social media post to tell everyone on both Instagram and Facebook.
The Instagram hashtags were researched in advance to align with the blog article topics.
Also, we made sure the new monthly article goes live just before our monthly newsletter so we could also inform the list of a couple of hundreds of subscribers to check out the fresh-out-of-the-oven blog post!
(A year later, after we launched a new YouTube channel, for each related video - we began sharing relevant articles in the pinned comments!)

The art of optimizing your blog articles
After laying a clear process for your blog creation, you've to add the cherry on top of the cake. That's optimization - which means you enhance specific parts of your article to let Google's algorithm know:
"Hey, I have an awesome blog article here about XYZ. Please index it in your library and put it on page 1 when someone searches about XYZ."
Of course, once Google is aware of your article, it might start putting it on page 90 or page 50.
Yeps, you've to get into the queue and slowly move up the ladder.
No queue cutting - especially if you are the new kid on the block.😉
Here are 3 simple ways to improve your rankings
Intra-linking and interlinking blog articles
Each of your blog post topic should ideally be related to one another in some way or other.
For example, this article is about how I helped my client execute my tailored blogging strategy. If you are looking for additional advice, I have written two other articles about how to blog your way to more traffic and the 7 top reasons why you are not getting Google traffic.
As you see in my illustration above, I've linked this article to two other blogging pieces using (ideally) phrases that form part of the other two blog article titles.
By linking related articles together, you are creating content clusters.
Google's algorithm is able to "scan your clusters of knowledge" and determine the breadth and depth of your "total blog coverage" in the particular domain.
Over time, when you push out new content that links to existing articles, your clusters expand.
The bigger your content clusters, the "more points" Google adds to your "final report card".
Yes, Google does have a "report card" for every blog. However, no one has any idea on how the "points" are being calculated.
You have no access to Google's "secret algorithm" but you can tap into Google Search Console to see where your articles rank for different keywords.
(On a side note, linking out to external websites in each article also boosts the value of your content and helps raise your Google rankings. Include linking out as part of your blog interlinking strategy.)
Content Strategy Optimization Tool : Google Search Console
In Google Search Console (GSC), locate the Performance report (see screen capture below).
For each individual keyword, you can view how many clicks you've received, how many times an article for that specific keyword has been shown to Google search users (impressions) and the average position of that article.

CTR = click-through rate and is the number of clicks per impression for a particular keyword.
This is the tool I use mainly to check on the progress of my blog strategy execution. From the report, I could tell that the articles started ranking higher and higher for an increasing number of keywords over a period of time.
Each time, we published a new interlinked piece, it took about a month to two before we could see the final ranking of the new article and how it boosted the positioning of the older articles.
The reason why it takes so long to see the "finalized ranking" is that -Google does a "regular report card calculation" for all public blogs on the internet and their technology is not that powerful to complete the entire "global calculation" at the same time.
Also, each time a new blog post is published, the "total blog score" will be recalculated.
So you have to be patient with the results.
If the positions of your articles seem to be gradually moving towards search results page one for the right keywords, then you are most likely on the right track.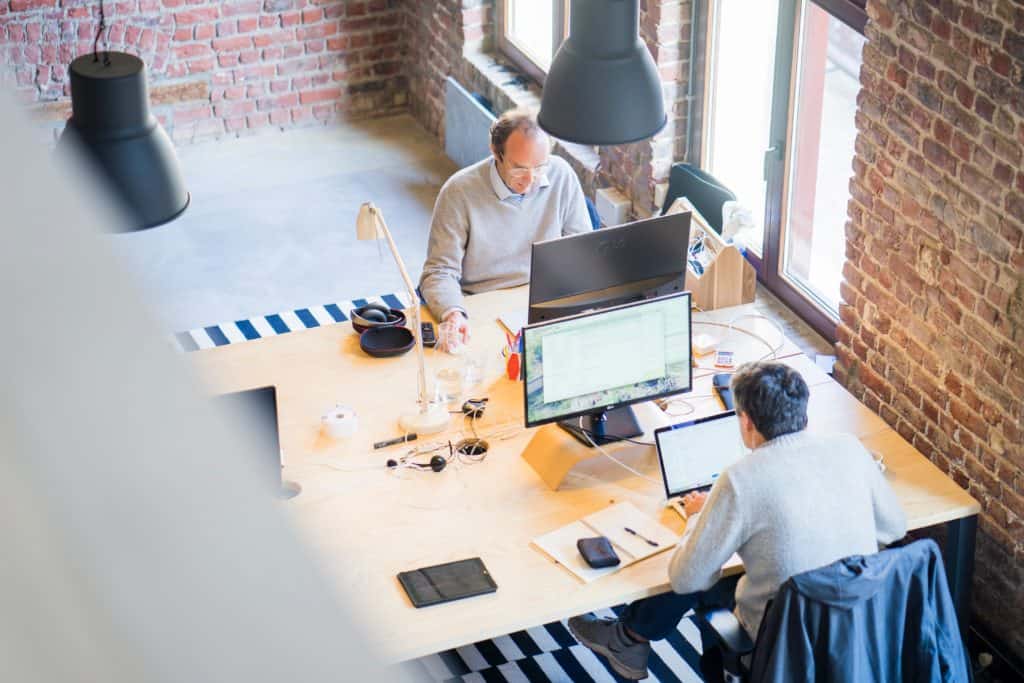 Keywords Optimization
Embedding keywords or key phrases of your article topic within your sentences is crucial. Repeating them in multiple locations of your passages is part of telling Google - this is the topic I'm writing about.
Aside from injecting the key terms in your paragraphs, incorporating them suitably into your headings is also another vital tactic in emphasizing to Google - this is the subject matter.
To spice up your text, including a verb, grammatical, antonyms or synonyms variations of your keywords would be tremendously helpful in engaging your readers.
As a general rule of thumb for a 2,500-word article, I recommend weaving in the related keywords about four to five times within the paragraph sections throughout the article and 2-4 times in the subheadings.
Meta Description Optimization
Your meta description is the snippet of text that appears below your blog title on search results pages.
This is the "make or break" text that helps a Google user to decide to click on your article. Or not.
The turning point where an outstanding meta description becomes pivotal.
Google imposes a limit of about 120 characters on this text snippet. Anything longer will be truncated and not be visible on Google results page.
To get that click from search results to your article, you've to put in the most interesting and intriguing information to get user attention at a quick glance.
How do you know if your meta description needs some polishing? If you pull out your Google search console reports, review your impression counts and clicks.
If you're getting about 10-20 impressions and zero clicks for key phrases or sentences you want to be found for, it's quite likely your meta description is not eye-catching or appealing enough.
Go back to your article and rewrite your 120 characters.
If you forget to construct your meta description, then Google will just automatically pull out the first 120 characters from your blog post.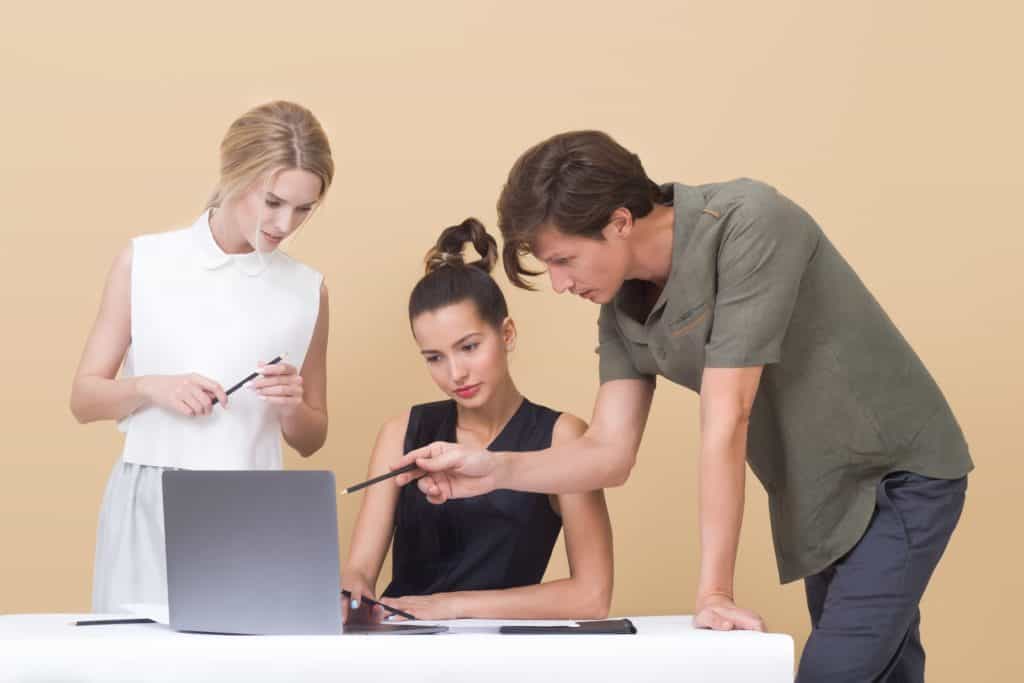 The Business Impact from 0 to 6000 Monthly Google traffic
Today my client's blog continues to flourish. It ranks for over 2000 keywords and more than 60,000 unique visitors visited the blog in 2020.
International clients have found her services through Google. They researched online, read her articles (and YouTube videos) and came knocking at her door.
They didn't need much convincing to become customers.
They were already almost bought over by her expertise through the extensive knowledge and experience shared through her exhaustive blog articles.
It wouldn't have been possible for customers to find her if her articles were NOT found on page one.
Craft a successful blogging strategy and get on Google page one
Getting from 0 to over 6000 monthly Google organic users - it's NOT magic.
It simply requires a laser-sharp focus on the end goal and building up a consistent blogging momentum.
In the initial stage, it is pure hard work and results are slow to show. BUT once you hit a certain threshold, things start happening.
When people find your article through Google search results, click on it and visit your article, Google allocates "a point" that says, this article was useful when people search for these key phrases.
As your articles chalk up "more points", Google will slowly shift your article towards the front pages of search results.
Getting to Google search results page one in 2022 is NOT rocket science.
It's all about crafting a successful blogging strategy through:
Intelligent topical research with scientific tools
Smart keywords and key phrases identification
Consistent blogging schedule
Systematic promotion of published articles
Repeat step 1 to 4.

If you are looking to build a solid blogging foundation that attracts high quality customers in 2022 and beyond, check out my premium Blogging Success 1-2-1 Workshop or alternatively, contact me for a personalized blog review for your business.