If you are new to Instagram or planning to convert your personal account to a business account, this is your complete beginner's guide for 2022.
A good Instagram marketing strategy for your business complements your content marketing strategy to generate high quality inbound leads.
Instagram has been around since 2010 and especially in the last couple of years, new features and functionalities have been sprouting up.
If you are a newbie, it will take a while to figure out the ins and outs of tapping into this social media tool.
Nonetheless, this back-to-basics beginner guide is a great resource to navigate you through the Instagram maze.
I'll be covering the basics like getting you familiar with the terminologies and how to use Instagram posts, Stories and Highlights to tap into the power of this visual social media network, attract qualified leads and turn them into paying customers.
Since I first published this article, Instagram (Business Account) has evolved with new features that includes Instagram Reels (short clips meant to compete with TikTok) and Guide. I will briefly cover them in this article as well.
Latest update 20 October 2021: Instagram TV (IGTV) - the vertical form video initiated by Instagram presumably didn't go down well with the crowds. As such, IGTV will be merged together with video posts and it will be called Instagram Video. Reels will also be allowed to upload to Stories.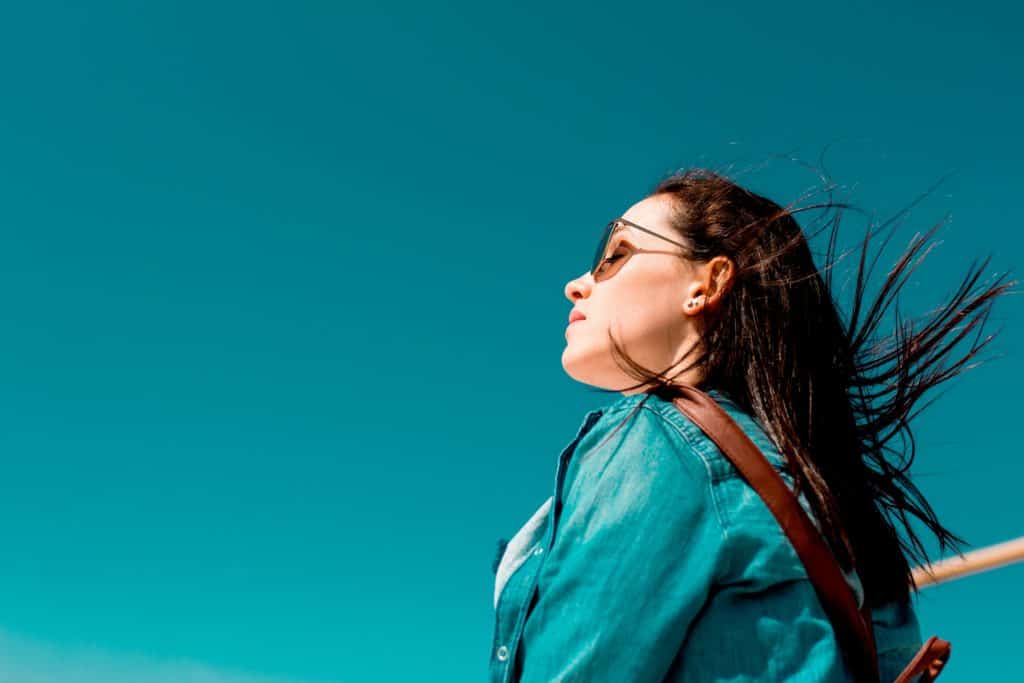 Anatomy of an Instagram profile
On your Instagram profile page, users will see your profile photo, profile description, highlights, posts, videos posted on Instagram TV and the posts where other people have tagged you.
These are the main parts on your profile page that you would be updating on a regular basis.
Optimal size of your Insta profile picture
Upload a minimum image size of 110 x 110 pixels for your profile photo. If you want your photo to look sharp, the ideal photo size is 180 x 180 pixels.
Anytime you want to update the photo, click on "Edit Profile" on your profile page. You'll be able to change your profile photo, name, username, your profile description that includes a bio and a link, business information and private information.
Updating your profile description
When you click on "Edit Profile", a page pops up where you can update your bio. The character limit is 150 and you can include a mix of words, hashtags or emoticons.
In this bio, think about what keywords people will look for when they search for products or services you have.
If you put in emoticons, it adds on a fun element to your brand.
On your Instagram profile, you are allowed to add in a link. It could be a link to your blog post, video or your website or the link to your e-commerce store.
If you want to spruce up your bio by having more than one link, there are services like Linktree where you can create a bio link that comprises of multiple links.
You can also set up one simple landing page on your website with link buttons to a number of pages you want to share with a profile visitor.
What you can include in your business information
There are three parts in this section namely Page, Category and Contact options.
Page
If you have an existing Facebook page, you can connect your Instagram account to that page. This will help you to create Instagram advertising campaigns through your Facebook ad account.
Also when you create Instagram stories, you can also share the same stories to your Facebook Stories.
Category
Category refers to the industry of your business. When you select the right category, this makes it easier for Instagram to place your content in the right group on the Explore page.
Contact options
What you select in this section will determine how a prospect will contact you when they find you on Instagram. You can either add your email or your telephone number or both. If you have a physical store, you can key in your address too.
There is also the option of adding an action button where you connect your Instagram profile with other online services.
Example: you can connect and sync with your Acuity Scheduling software for someone to book an appointment or sync with your Eventbrite account if you are selling tickets for an event.
Your private information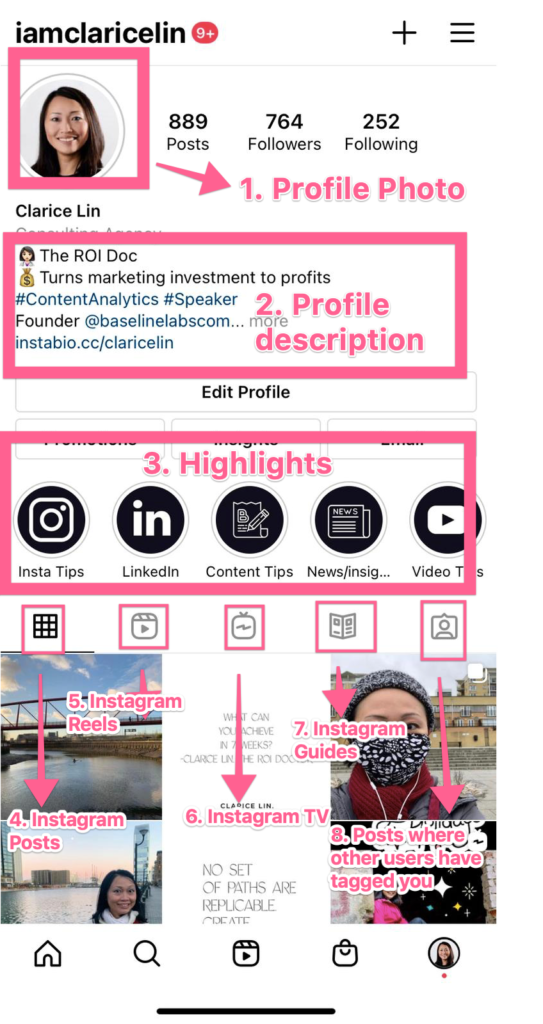 What are Instagram Hashtags?
#hashtag was born in the 21st century.
At the beginning, it was mostly associated with Twitter and was meant to link buzz around the same topic on the platform so others can follow or join these conversations.
Fast forward to today, it has become so useful that it has been successfully adopted across other platforms like Instagram and LinkedIn. (Unfortunately it didn't work so well on Facebook.)
Hashtag is akin to "google search engine" on the social media platforms.
If you are running a business, using the right hashtags on Instagram will help new people discover your content (provided you are ranking for them).
Side note: The same hashtags that works well on Twitter might not be your key to success on Instagram.
Following Hashtags on Instagram
There are 2 billion monthly active users on Instagram and over 500 million daily active Instagram Story users worldwide.
Apart from following individual accounts, these users are able to follow hashtags they are interested in. This means posts and stories with these hashtags will be shown to this group of followers.
This is how the "profile page" of the hashtag #mondaymantra look like. It is almost the same as the profile page of an user.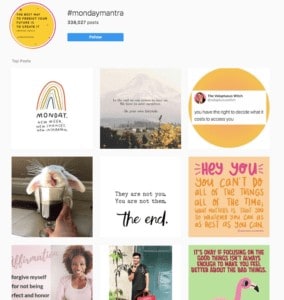 People who tag their posts with #mondaymantra, their posts will appear on this page. Similarly, these posts will also appear in the feed of the followers.
If a story is tagged with #mondaymantra, it will be added to the stories - indicated by a pink circle around the #mondaymantra "profile page".
Anyone who is following this specific hashtags will see those content shown in their home feed.
Hashtags help users to find things they care about or want to know more about.
Tagging your content with the right hashtags help these users to discover your brand and your content.
Hashtag Research
There are many tools that you can use to research for the right hashtags. If you don't have a budget for research, this is what you can do instead. First, launch your Instagram app.
For instance, I want to look for other related hashtags that I can use together with #mondaymantra. I go to the search page and key in the hashtag. Then I click to go to the "profile page" as seen below.
The Hashtag page is divided into three parts:
The "profile photo" and the follow button
Row of text beginning with "Related"
Two tabs : "Top" and "Recent". In the first tab, 9 posts with the highest engagement are displayed. While in the second tab, any posts that has the #mondaymantra hashtag is displayed in chronological order.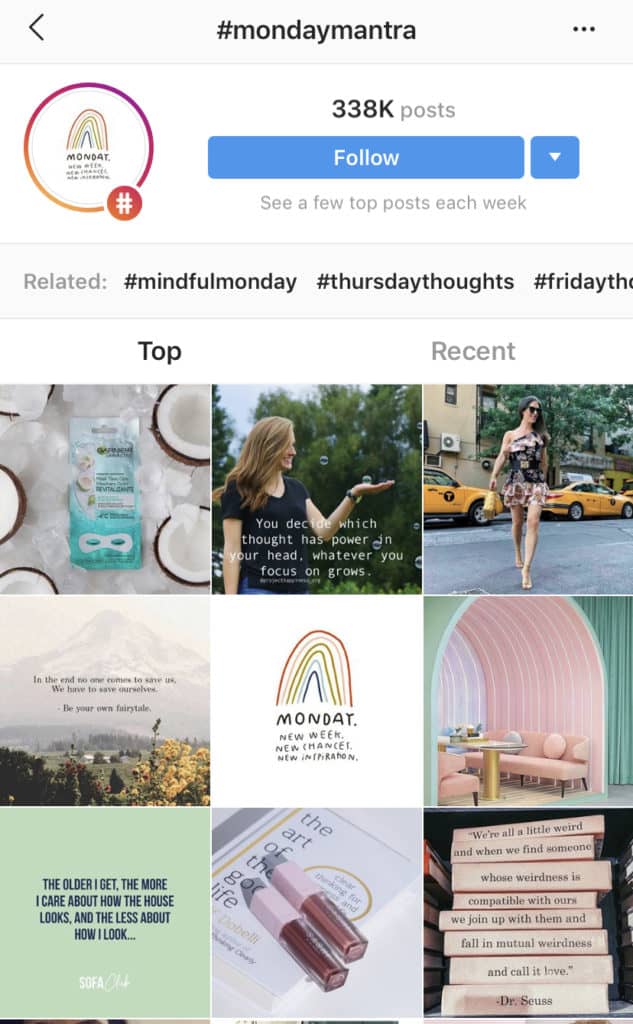 Right below the follow button, there is a row of text that starts with the word "Related:".
The hashtags right behind that word are other associated hashtags that people would use together when they use the hashtag "#mondaymantra".
This is a free method for your research but it requires some time commitment to unearth the associated hashtags.
Another method you can employ is to check out each of the (9) top posts under the tab "Top". Take a look at what other hashtags the owners has included as well.
In the screenshot below, in the first row, third column, let's take a look at what other hashtags the user has selected. The post has garnered 796 likes and 19 comments so far.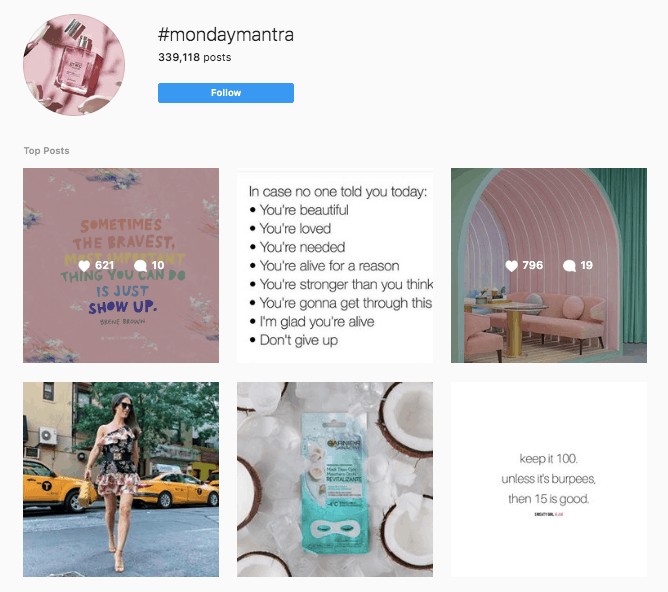 I click on the post to view the details. You can see the other hashtags used like #mondayquotes, #mondayvibes, #girlbossmonday etc.
For all relevant looking hashtags, save them in a notepad or better still, an excel sheet making it easier for you to organize the information better at a later stage.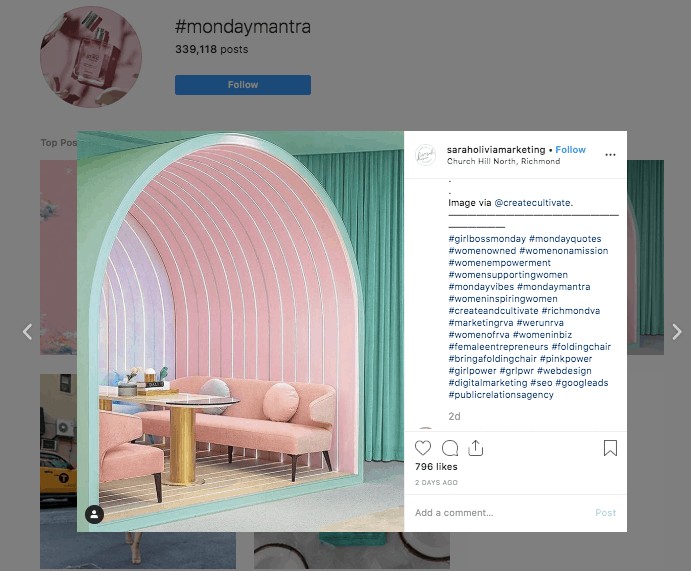 When you have collected a list of related hashtags, search for each of these hashtags and learn what other users have been posting under the specific hashtag.
If the hashtags are used by other accounts that are not aligned with your brand theme or it has a different meaning from what you expect, eliminate it from your list.
Using the right hashtags
The other piece of information you ought to take note of is the number of posts that have been published under each of these hashtags. You want to use a combination of hashtags type that fall under these categories.
just over 1 million existing posts
between 500K to 1 million posts
between 100K to 500K posts
10K to 100K posts
1,000 to 10K posts
If a hashtag has 2 million or more posts, chances are many people are regularly using it. That means once you publish a new post, it will rapidly be buried under other new posts, making it difficult for others to discover your through this hashtag.
Conversely, if a hashtag has under 1000 posts, this suggests not many people are aware about this hashtag and not many people are using or following it.
So when you use this hashtag for a new post, the probability of someone discovering it is also low currently but if usage continues to grow, you could be dominating this space (in the future).
So, when does Instagram not work for you?
No hashtags
When you don't use any hashtags for your posts and stories, it's extremely challenging to grow any followers. Especially if you are new to this space, the number of accounts have reached saturation point.
It's a stiff competition to get your content in front of your followers.
If you recall back in the early days, it was easy to get followers for the Facebook page, today it's almost like climbing Mount Everest.
Without hashtags for your post, you might as well not post anything because it's a waste of your efforts. If not enough people like, comment or share your Instagram posts, then the algorithm wouldn't be triggered and your post will not be seen by other followers.
Including hashtags is one of the best way to grow new followers and extend your reach.
Wrong hashtags
What happens when you use the wrong hashtags? Your content will likely appear in front of the wrong audience and it will not be appreciated.
It will result in no likes, no comments and no potential prospects.
Similar to using no hashtags, using the wrong hashtags also becomes a waste of time for your business.
Type of Industry you are in
For some instances, Instagram is a more suitable social media platform than others. Because this is a very visual platform, it's more suited for a business in the fashion, beauty, fitness or travel industry.
If you are selling consumer goods, this is also an awesome channel to showcase your products.
In some cases, you can even select and work with influencers to promote your products. It's like hiring a brand ambassador for your brand.
However, if you don't fall into any of those categories, don't panic.
This visual-focused platform is also useful for growing your personal brand when you share your day to day with your followers to cultivate trust.
Apart from Hashtags, now you can also rely on Keyword Search to be discovered on Instagram
So, Instagram has upgraded its Search Feature! This is another new capability rolled out towards the end of 2020.
Previously it was only possible to search by username, profile names, hashtags and location...but now,
you can search by specific keywords!
It's one additional way to search for content you love on the visual social media platform.
For example,
instead of #weekendvibes, you can now search for "weekend vibes".
That means you don't necessarily need to add every possible hashtag variation for your posts to get maximum visibility.
As long as you use the specific keywords in your caption, that should likely be enough to help people find your content.
📍 Note: Not every niche keyword and topic will be searchable in this way.

Currently it's "limited to general interest topics and keywords that are within Instagram's community guidelines".
Instagram has also said, to get a high ranking in the keyword search, they consider "a number of factors" that includes "type of content", "captions" and date posted to display the most relevant results for the users.
In my personal opinion, I'm guessing adding related "alt text" to your images could possibly increase your chances of showing up too. 😁
The next time you create that Instagram post, add related keywords as "alt text" for your visual and don't forget to add on as a caption to up your chances of discovery by potential new followers.
Can you add text on visuals?
Although users on Instagram is very much into visuals - like images and videos, quotes creation is also very popular.
People love quotes on Instagram (and Facebook too!). Motivational, inspirational, insightful and provocative quotes get high engagement on Instagram.
Users turn to this colour-infused platform to get an "encouragement boost" or "dopamine hit" to get them going.
Quotes are extremely well-received because people want to know they are not alone - in whatever they do and they enjoy tapping on the "like" button to indicate a "me too!".
Something new that has started trending - a "text" story or otherwise what I call a "mini-book". Essentially a person can share a mix of up to 10 photos or videos as a single carousel post that friends can swipe through.
Seth Godin - the marketing guru is doing that right now on his Instagram account. He keeps his captions short and sweet and distributes the text on multiple photos.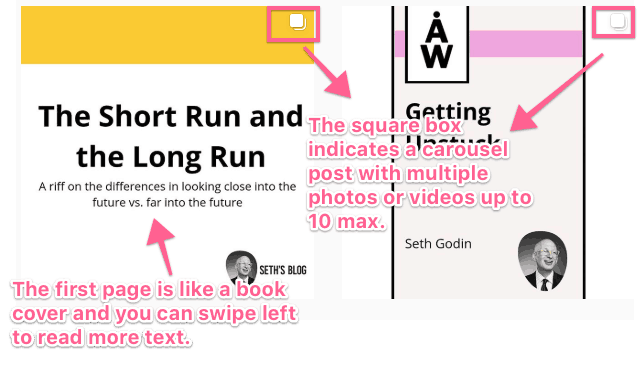 Create a consistent look and feel for your content
When you use Instagram to expand your audience's reach, one of the underlying success factors is to create a consistent look and feel.
In other words, it's about building a recognizable brand that fosters trust.
That's where templates come in. Especially on your main profile page, the colours and fonts and design have to be uniform - to a certain extent.
Let's say if you publish regular quotes, the quotes should have a consistent look and feel so anyone who is following you is able to spot it immediately.
Integrating your brand colours similar to what's on your website and other social media platforms is also crucial because you want your brand to pop up first in people's mind when they see those colours.
Tools to create your Instagram Brand Templates
If you are great in design, you can use tools like Canva or Affinity Photo or Photoshop to build your own brand templates. All three of them have apps you can download to edit photos on your mobile.
In particular, Canva also offers a library of handy photo collections to use in your design.
Instagram Template Marketplace
There is also the option of purchasing a set of template for a consistent Instagram branding look and feel.
Creative Market offers a wide selection of Instagram posts and Stories template you can select from and they also offer templates for Facebook, Pinterest, SnapChat and Twitter.
Design Shack is another option you can look into by industry type. Whether you run a fitness. charity, ecommerce or travel business etc, there is a wide array of options for you.
Publishing content on a regular rhythm
Publishing your content on a regular basis is also another success factor for growing your Instagram following. The lifespan of each Instagram post last about a couple of days so your content can easily RIP (rest in peace) without anyone noticing.
Instagram's algorithm works in such a way that when your follower likes or comments on your post, the relevance score of your content to them goes up.
So, the next time when you publish a post, the algorithm will mostly show your post to them again!
When you stop publishing, your relevance score declines and when you put out a new piece of content, it's less likely to be shown to them.
The more interaction your follower has with your content, the more familiar they are with your brand.
And this increasing familiarity breeds trust!
How many times per week should you post on Instagram ?
The difference between an Instagram Post and an Instagram Story
People new to Instagram scratch their head when I tell them about Instagram posts and Stories. They don't quite know when Stories fit in when they have already published posts on their main feed.
Stories is a channel for peeking behind the scenes - when things are in motion, when you are preparing for an event, your preparation before a big product launch etc.
Whereas posts are a way to showcase the end of an event or a momentous moment - like a big photo take to round up an occasion.
Let's say you have a big day out. Whereas you might share a number of interesting photos
In the past, Stories only last for 24 hours. However, Stories can now be viewed after 24 hours if you save them under Highlights - which you can see on your main profile page.
Stories that are more than 24 hours old and not saved in your Highlights will be archived.
A new function on the Instagram app now allows you to re-share a story you've created one year ago on the same day.
Creating Instagram Stories
It's very difficult to get in front of your audience if you are only scheduling normal posts. A good Instagram Story strategy complements and drives more eyeballs to discover your brand.
Instagram Stories are not limited to still photos and 15 second video clips. The photos and videos can be taken beforehand using your mobile phone camera and you can upload to Stories at a later time.
You can use standardized templates to create behind-the-scenes content and best part is, they don't need to be picture perfect.
Stories effect: Boomerang, Face Filters and Superzoom
Within the Instagram app itself, there is also the option of creating Stories made up of Boomerang, face filters and superzoom effects.
Within the Superzoom feature, Instagram offers 6 effects Paparazzi, TV Programme, Dramatic, Beats, Fire, Hearts, Nope, Bummer, Bounce and Surprise. They are used to illustrate the feeling through colours and sounds when a picture is zoomed in.
Sharing your Insta posts as Stories widen the reach to potential new audience especially when you use relevant hashtags for discovery purposes.
Within a single story, you can use up to 10 hashtags and one location while an individual post allows you to add up to 30 hashtags and one location.
Using Stickers In Instagram Stories
One of the prominent features in Stories are the Insta Stickers! These stickers aid in content discovery and boost audience engagement and interactions.
Location Sticker
The location sticker is most essential for a local business. If you take a photo at where your business is running, tag the exact location or the area of that location.
Someone living in that area who doesn't know about you but is following the location hashtag will help them discover you!
If you are a personal brand, it might not be such a good idea to tag your home location but rather widen the circle of your physical location for your personal safety.
If you are traveling from place to place, tagging the location will help people who are interested in those places to stumble onto your content.
Is it essential to use location stickers in your Instagram stories?
Hashtag Sticker
As I mentioned earlier, the maximum number of hashtags to use with each story clip is 10. The main hashtag sticker could be formatted by colour - either transparent background, rainbow fonts with white background or pink fonts on white background.
After typing in the text for the hashtag, tap on it to look through the colour selections to make your final desired colour.
If you want to use up to 10 hashtags, insert text and type in "#" before you key in each name.
Tag Sticker
The tag sticker allows you to tag another user. If you are promoting a product, you can use this to type in their name and add them. Similar to the hashtag sticker, there are three colour options for you to choose from.
You can use as many tag stickers as you want - for example if you want to tag multiple friends in a photo.
It's a MUST to use GIFS and MEMES on social media!
GIF Sticker
I call the GIF sticker the fun sticker! GIF brings another dimension of life into your stories. It could be a simple animated call to action sticker or a dance GIF or sunset GIF - this Giphy integration with Instagram truly personalizes your stories!
If you want to promote your brand, you can also create your own in Giphy and upload them to Stories!
Interaction Stickers
Countdown sticker
This is the perfect sticker to share a product launch, a birthday giveaway, an upcoming event or a special anniversary. After selecting the countdown sticker, click on the color wheel to choose your desired colour and give this countdown a title.
Then choose the event date by scrolling the day, month and year option. If your event takes place at a specific time, there is the option to choose the specific hour and minute.
Let's say if you have an event in 2 weeks time, and you plan to promote it every few days on stories, adding this sticker to each helps to keep the date in their mind.
Also, your audience can "subscribe" to this countdown so they will be notified when the day arrives.
How to use Instagram Countdown Timer Stickers in 2019?
Question Sticker
The sticker that pulls your audience into a conversation. The question sticker is the perfect chance for them to ask you a question, or express their thoughts about an issue that you feel strongly about.
It's also great if you want your audience to share with you their favourite ice cream flavour or simply how they celebrate their birthday.
For any question that is open ended - use this sticker! You can choose to either share the answers publicly on stories or DM the folks individually within the next 24 hours - totally up to you.
Polling Sticker
Whether you want your audience to make a guess between two options or help you make a decision between a strawberry smoothie or a banana smoothie.
After 24 hours, you can share the results of this polling sticker as a new Story - whether it's a draw at 50-50 or 80-20 - this is a great opportunity to get your followers' opinion.
Emoji Slider Sticker
If you want to find out exactly how your audience feel about something - like how much they 💙 a city you are visiting right now or how much they 😍 your newly launched product.
The emoji you pick for your question layers on an additional element of emotional context.
When users see your story then drag the emoji to the left or right, it will animate and show them the average of how others have responded so far.
Quiz Sticker
Quizzing your followers can be used to hold a competition when they select the right answer you've pre-chosen in advance. Example, the first 10 people who get this right will get a special prize or discount.
It's another interaction opportunity and a chance for your audience to pay attention to the content you put out.
When someone answers a unique quiz question and review the answer options, it gets their attention, and makes them pause and think. By increasing the interaction time, it helps to cement your brand into their mind.
Chat Sticker
Group conversations are becoming a thing over the public commenting and replying threads. When you add a chat sticker to your story, you can approve respondents who tap on "Join" to add them into a direct messaging group.
It could be a special announcement meant for a specific group of people or creating an intimate circle for a one-time event, this group chat feature creates exclusivity and enables you to gather the engaged folks into a group chat.
Donation Sticker
If you have a vested interest in supporting your charity that forms part of your branding, this is the perfect chance to rally your audience. This donation sticker feature is currently only available in United States and United Kingdom.
After you select the charity and put it into your story, your followers have up to 24 hours to make a donation without leaving the Instagram app. It's pretty neat as the amount you help to raise goes directly to the charity.
Especially if your audience has a personal interest in the same charity as you, the common interest helps to forge a closer bond.
Music Sticker
This is a relatively cool feature that is unfortunately not available for everyone due to regional limitations and music copyrights.
However, if this feature is available for your Stories, you can select and add a song of your choice by searching through genre, mood, song title or artists names. Then you can further decide on the length of the music clip you want to repeat on your Story clip.
For some song selections, you have the 2 to 3 snippet options to select from or you can just go with the default snippet that has been selected for you.
How do you use Instagram Highlights?
Instagram Highlights are like categories to give your audience a glance into your business through Instagram Stories. For example, if you have ongoing events, stories of the events can be saved under a Highlight called Events.
Or if you share regular recipes, you can save all recipe stories under a new Highlight called Recipes.
If someone new follows you on Instagram, they can still check out your old stories and get you to know you better under the various Highlights categories.
Instagram Stories Highlights in 2019 - Have you done this yet?
Instagram Live
Livestreaming on Instagram is known as Instagram Live. People love live interactions. It's like going to watch your favourite singer perform live and soak in the atmosphere in real time.
Personally I find it more engaging when everyone is commenting at the same time and if the host of a live stream answers my question almost instantaneously.
The instant gratification narrows the physical distance between your audience and your brand. When you go live on Instagram, you can add filters and also allow your live audience to ask you questions in real-time.
At any one time, you can go live up to 60 minutes before it gets cut off. For a longer stream, you'd have to go live again.
Once your live video has ended, there is an option for you to share a replay of it to your Story. And of course, the live video will expire after 24 hours.
What is Instagram TV (IGTV)? And what has happened to it? (Updated: 20 October 2021)
Now you've learned about Instagram posts, Stories and Live, it's time to dive into IGTV- the video platform on Instagram.
The objective of IGTV is very much similar to Youtube. It allows you to showcase long-form videos without having to go live (i.e. Instagram Live).
The maximum length of a video post is 60 seconds while each Story clip lasts for 15 seconds. On IGTV you can upload videos up to 60 minutes long. The video can either be in landscape or vertical format.
Your videos' size should be between 1080px by 1920px (vertical) and 1920px by 1080px (landscape) else you won't be able to load them up.
You can choose to upload a thumbnail size of 1080 x 1680 pixels for your video else Instagram will just select the first frame as the preview image.
After you upload your video, you have the option to create a preview post of the first 60 seconds (of your IGTV video) so it shows up in your profile feed.
However, it might not have been very well-received and the popularity never exploded.
What is Instagram Video?
On October 5, 2021, Instagram made an official announcement to "retire" IGTV and combine it with the normal video posts.
This "new combined" feature is called Instagram Video.
When you upload any new videos, they will appear under a new Video on your profile, making it easier for people to discover new video content.
There will be more updates on this section coming up.
The New Instagram Guide
This is a relatively new-ish feature that was pushed out to business accounts in late 2020.
Instagram Guide is akin to a special themed feature portfolio that you can create. You are not creating anything from scratch like what you would do for Posts, Stories and IGTV.
Rather you are simply stringing together a series of Instagram posts that forms part of a theme.
What you do is, first, decide on a theme relevant to your brand.
Then go back to review your existing posts on your profile and decide which posts will become a part of this theme.
After you create a guide, you select those posts and then fill in the gaps.
Mainly, you need to craft a title for your guide, relevant subheadings, and a title (and subtitles) for each post you've added.
Together those subheadings and subtitles should be telling a coherent story that explains what your guide is all about.
For clarity purposes on how Guides would look like on your profile, check out my screenshot below: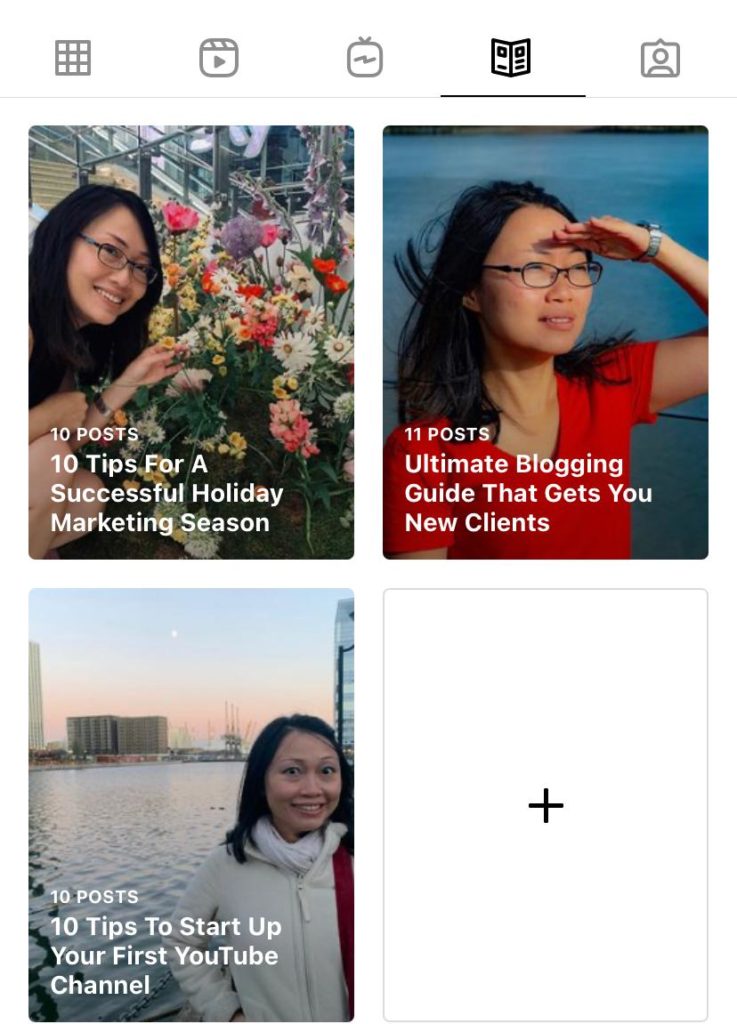 The New Instagram Reels
Reels is Instagram's answer to TikTok's (threat of) short-form videos. Similar to stories, Instagram Reels are meant to be viewed vertically, full-screen, and on mobile - that means a dimension of 9:16 is the best way to create your optimal video experience.
The length of a Reel can either be 15 seconds or 30 seconds. Very much the same as in how you would upload an IGTV video, uploading a Reel requires you to select a cover thumbnail that would double up to display as an Instagram preview Post.
Right now, there are no official stats on number of Reels users but for sure, Instagram is pushing very hard for user adoption on this up and trending video format.
If you are new to Instagram, this could be something for you to keep an eye on. But if you have limited time and resources, I would recommend to focus your efforts on creating regular posts and Stories - where the users are mostly consuming currently.
Reviewing Instagram Insights
I've covered most of the ins and outs of using Instagram to promote your business.
In this last section, I'm diving into how to use Instagram insights to track your progress and your efforts towards using this visual platform. Within the Instagram app, there are two ways to view your posts' performance.
On the top right-hand corner, there is a three line icon. Tap on it and a navigation bar will slide out.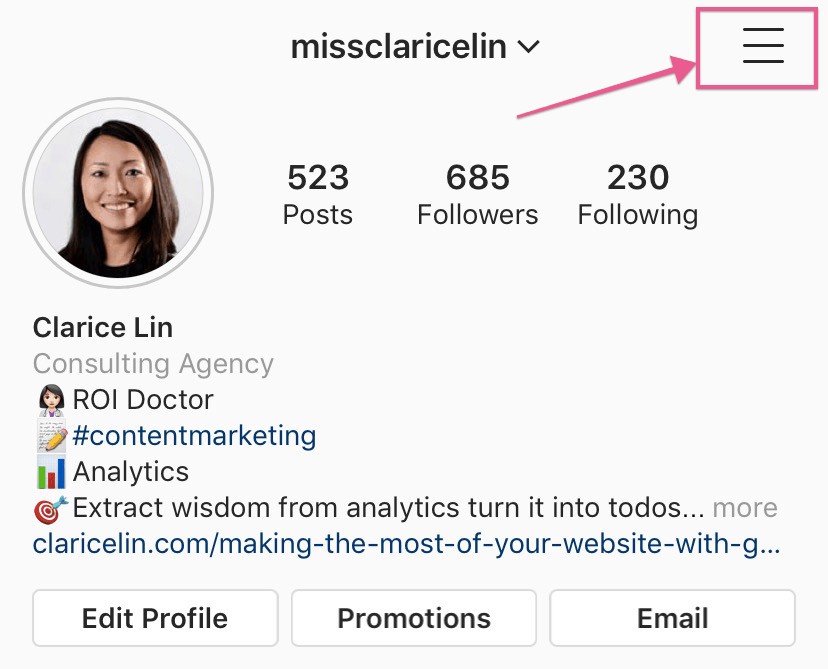 Look for "insights", then tap on it.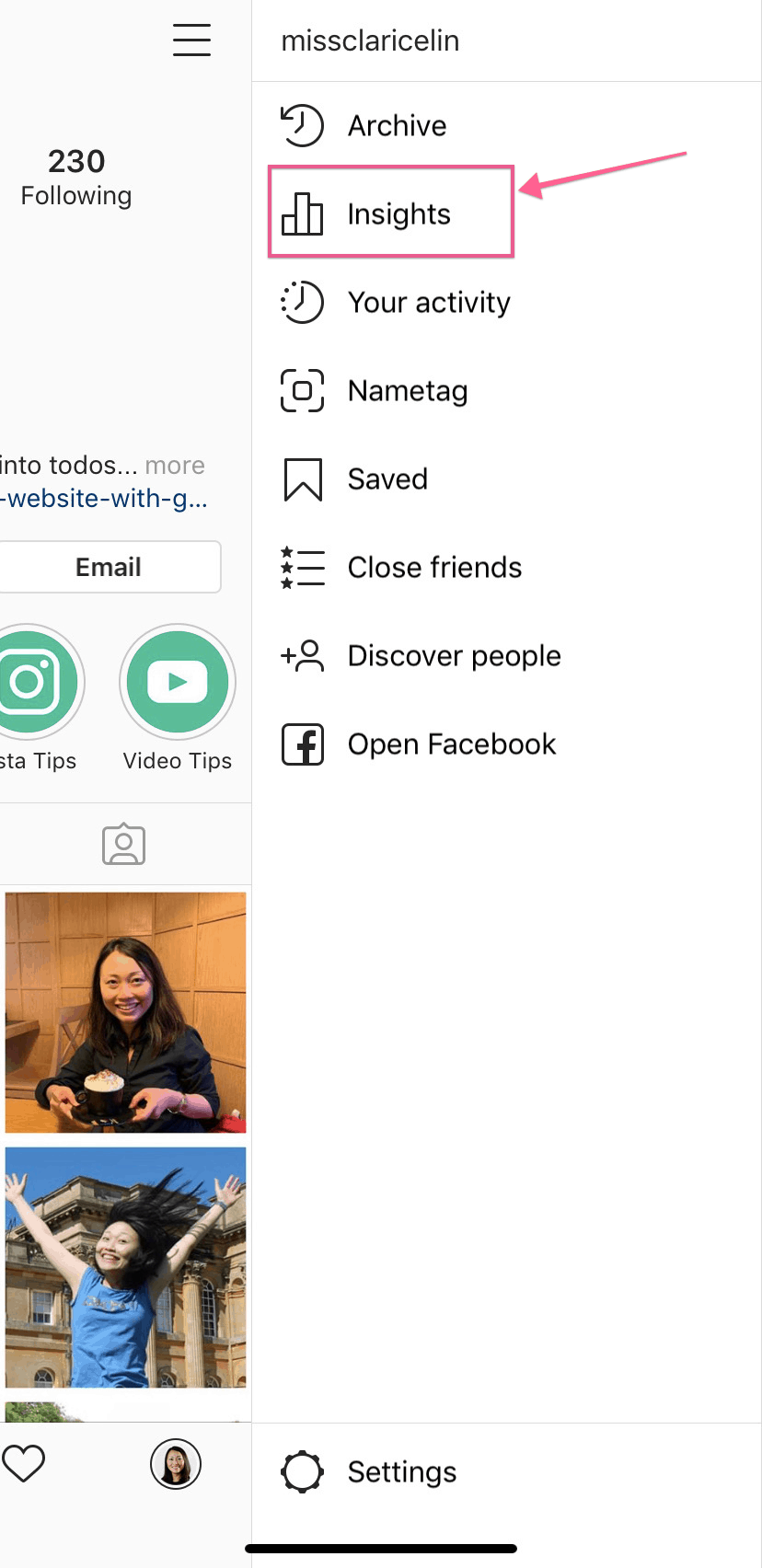 A full insights report will be loaded as seen below. There are three main report sections: Overview, Your Audience and Content You Share.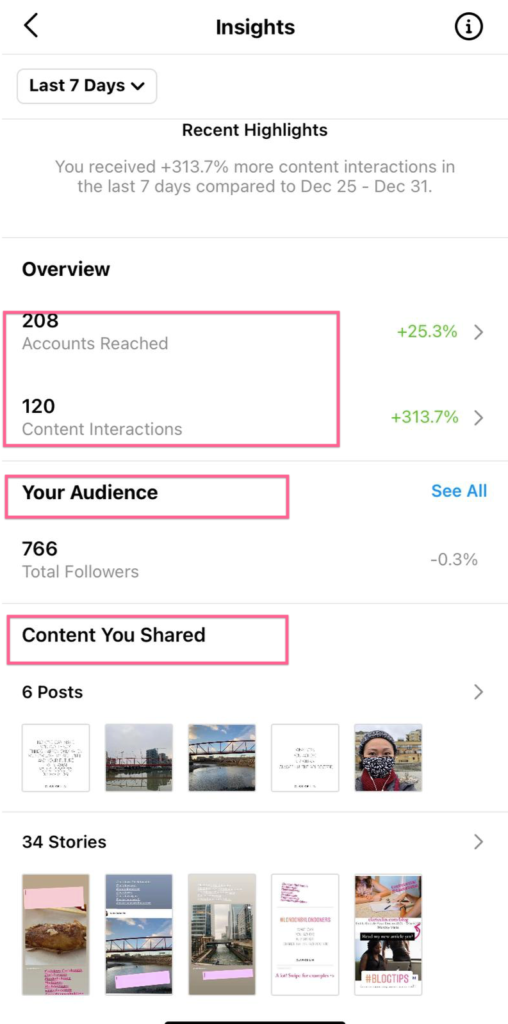 In the Overview section, it shows how many accounts have "seen" your content and the volume of content interactions you've received.
In Your Audience section, you can see the change in number of followers for your account.
Under Content You Shared, you can view the posts and Stories over a 7 day time period and you can click on the right mini arrow to glean more insights
If you want to get the same set of information for the last 30 days (instead of the default 7 days), click on "Last 7 Days" at the top of the report.
A dialogue box will slide up from below to allow you to select the alternative time period.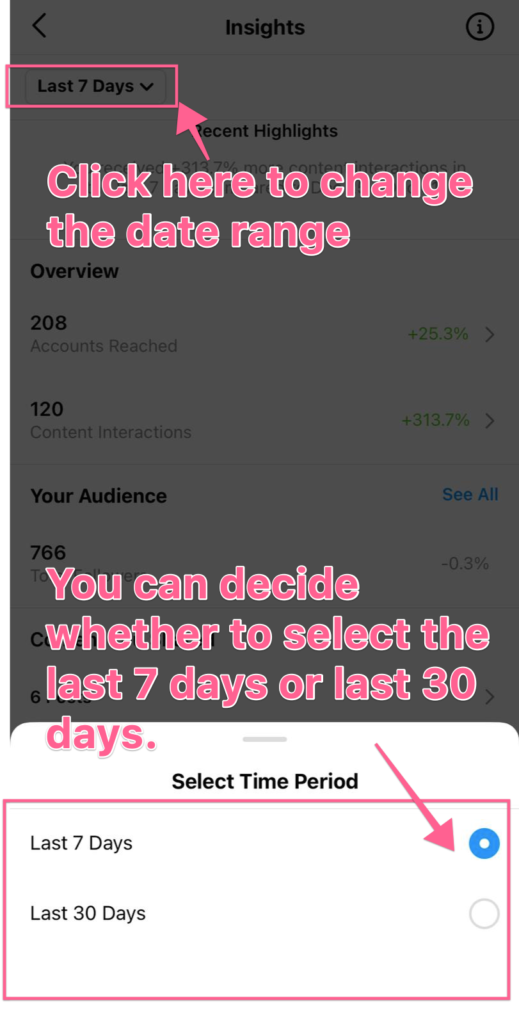 For insights into individual posts, click on "view Insights" under each image.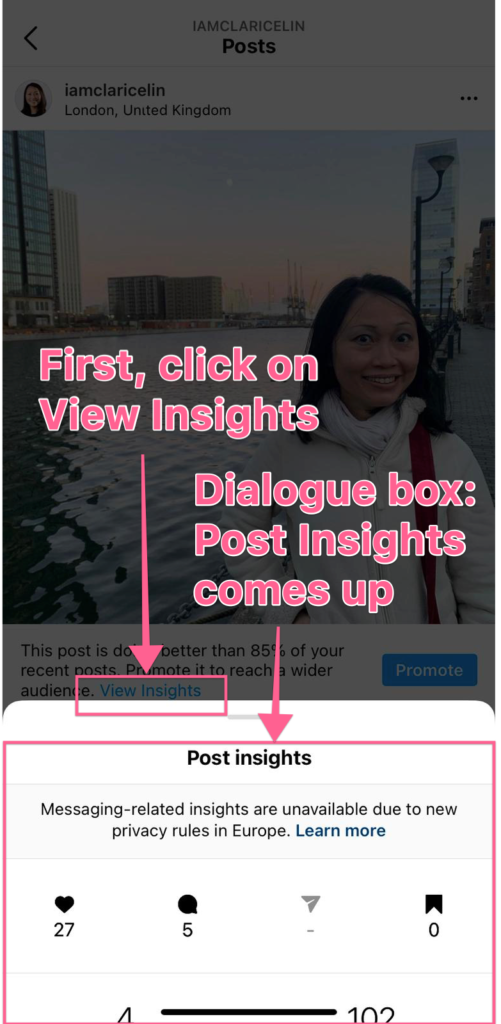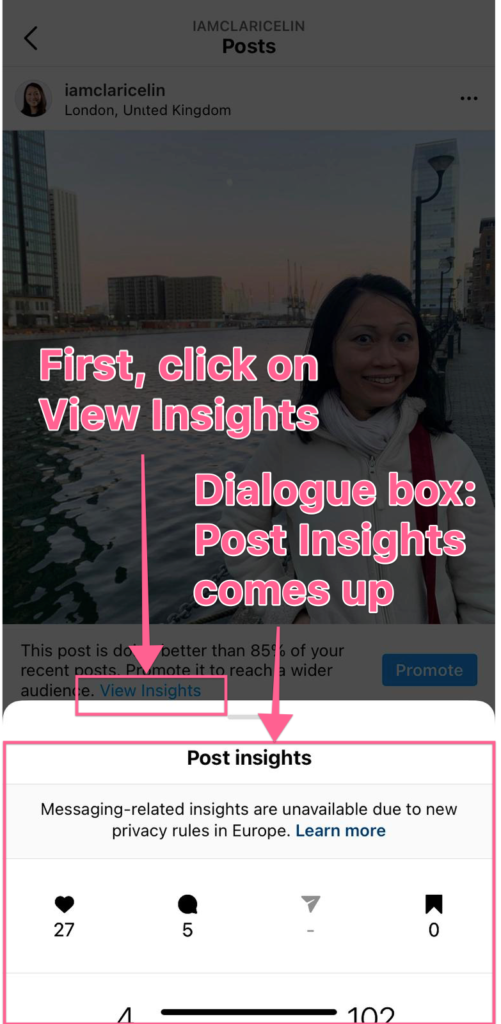 A Insights panel slides out from the bottom (of the post), displaying the total number of likes, comments, shares, saves, profile visits and reach of this one post.
If you Swipe up the panel and you'll see details of two other report sections: Interactions and Discovery.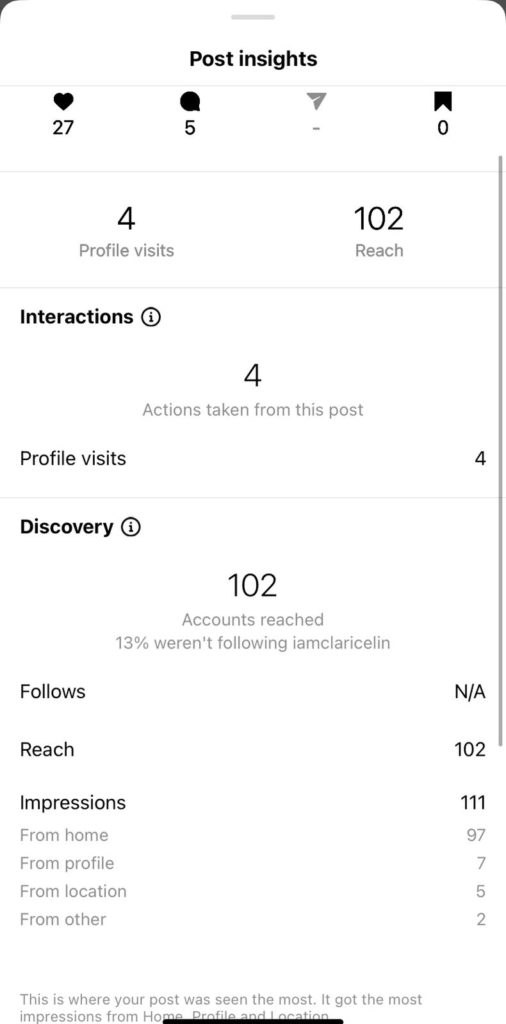 Under Discovery, you can view the breakdown of the total impressions: whether a user found your post through their home feed (if they are already following you), the hashtags you've used, directly from your profile or from other locations.
This is especially useful if your account is fairly new and you want to confirm if you are using the right hashtags to attract the right group of users.
What's the social media ROI of your business? And how to make it worth your time?
External tools to review your Insta content performance
If you have a budget, consider subscribing to an Instagram scheduling tool to review your content performance. I'll be writing another blog post about the available tools on the market.
Look out for these Instagram Key Metrics
Purchases
In an ideal world, the revenue and volume of direct purchases from Instagram would be the best tangible benchmark to evaluate the payoff for these social media efforts.
However, unless you have an outstanding brand, an immediate purchase after viewing your Insta Stories and posts is a rarity.
Most people open the Instagram app to discover new brands and ideas and to follow their favourite brands on what's the latest. They don't think, "I want to buy something on Instagram".
Profile Views
Instead of purchases, the number of profile views is a good gauge to find out if people wanted to find out more about your brand and check out your other posts.
The more profile views you have, it means your content has successfully aroused attention and made someone want to know more about your products and services.
Clicks to your website
This is a significant step. It means you've stopped drawn out the user from their Instagram experience to exit the app and find out more information about your brand!
They are interested to learn beyond the visuals and captions you've put up. Exiting the app demonstrates a stronger interest and trust in your brand.
They could also be on their customer research journey to evaluate your products!
Want more leads? Promote your blog posts on Instagram!
What about Likes, Comments and Shares?
The Instagram algorithm is dependent on the volume and speed of likes and comments. The faster you get them, it's triggering the algorithm to show your posts to more of your followers.
Also, each time your followers likes and comments on your story, it's more likely your future posts will also be prioritised in their feed.
Direct Messaging for your business
These are potentially prospects who are interested in your business. In some cases, this channel serves as a customer services platform to communicate with your existing customers.
If you get more messages about buying your products, this is for sure a good sign.
Even better, now you can manage your Instagram direct messages together with your Facebook inbox with your creator studio account. And if you have a standardized reply template for specific enquiries, you can craft them in advance and save them as a quick reply.
Bookmarks of your content
From insights, you can learn how many people bookmark your content. The more you have, it's a sign of relevance to your audience where they want to return to look at it again at a later date.
Instagram is still a social media channel to be reckoned
If you are selling products or services directly to your customers, this is the space is where you want to exert and expand your presence.
(Side note: TikTok is an expanding powerhouse and if your target audience belongs to the younger demographics, I urge you to hop onto the bandwagon and create an account for your business.)
Do plan out your content calendar and publish intentional content with a purpose.
And similar to the return on investment (ROI) on a content strategy for your blog, measuring the ROI of your Instagram strategy is equally important.
Whether it is to get more people to know about your brand, interact and boost trust with your audience or convert them into paying customers, make sure there is a legit reason for spending time and effort on Instagram marketing.
Then be prepared to adapt it along the way.
As the saying goes,
Planning without action is futile yet action without planning is fatal.
If you require help with a clever Instagram strategy in the new year, drop me a note.