One of the lesser-known tactics to getting your blog posts on Google page one is to link out to other websites in your content.
Most business owners are hesitant to link out to other websites as they think, in this case, wouldn't that send my website visitors away?
That wouldn't be the case.
Linking out to external websites doesn't imply that you send your readers to your competitors.
The external websites could be well-established organizations or media companies that you draw on frequently as a source of news and research.
When you include related URLs in your articles, it would appear that you keep up to date with what's happening in your industry, which would enhance your authority and reputation as an expert.
Table of Contents
What exactly are blog links?
For every blog post, there are three possible types of blog links.
Another website may link to one of your blog posts, sending their visitors to yours.
Consider linking to another of your own posts or an external website that provides more information not presented in your article.
Adding blog links in an article is the modern way of including references in an academic essay.
It is not within your control whether or not other websites link to your articles, but you can persuade them to do so.
We will cover this topic in a separate article about how to get inbound links to your website.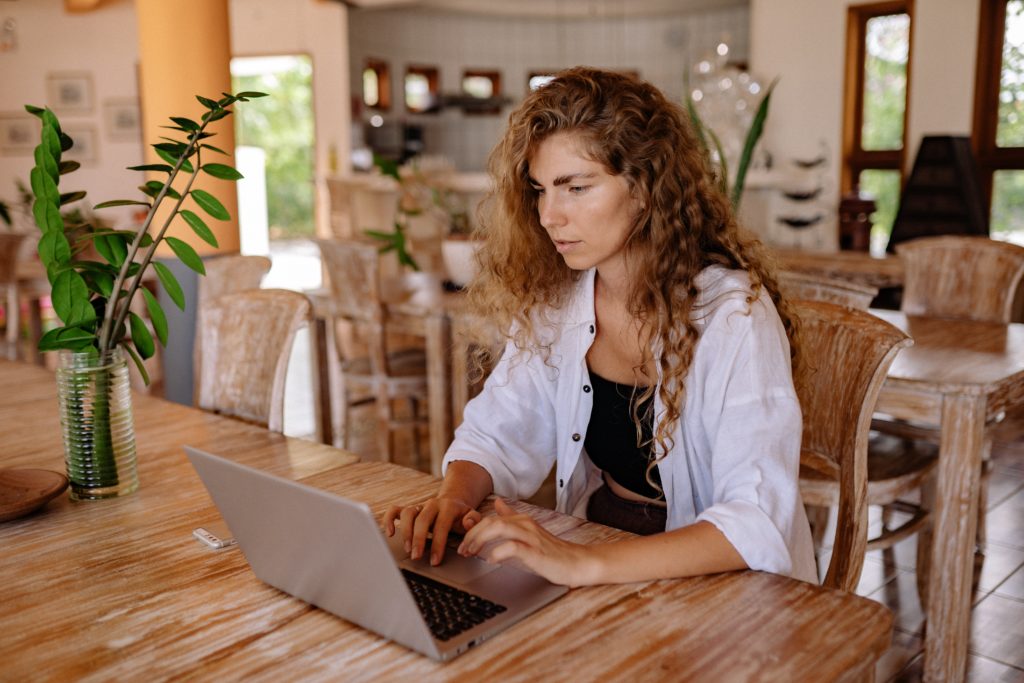 Abusing outbound linking
It used to be common for people to buy external links to boost their Google ranking.
Many sites interlinked to one another to get as many links as possible instead of putting in relevant links that would add value to the blog post.
As a result, Google has updated its algorithm to catch anyone misusing the system.
Today, there are still people trying to game the system and looking for shortcuts, but they're usually found out.
If you stick to Google's guidelines, you'll be rewarded eventually for all the work you put into selecting high-quality external links.
How to link your website to other websites (also known as adding external links)
There are four different ways of adding external links to your blog.
External Text link
The most common and convenient method is to highlight words or phrases, click on the link icon, and type in the URL you want to link to.
See the example in one of my articles: 11 Vitals to Grow A YouTube Channel – From 0 to 100 Subscribers [2021].
I highlighted the text "why people turned to YouTube" and hyperlinked it to one of Google's YouTube viewing statistics.
YouTube is the topic of my article and Google's research trend articles have high credibility and authority in this domain. Therefore, linking to this relevant article will boost the credibility of my blog post.
In this example, "why people turned to YouTube" is what SEO experts would name it as "anchor text".
Pro tip: Whenever possible, try to use words from the title of the page you are linking to as anchor text.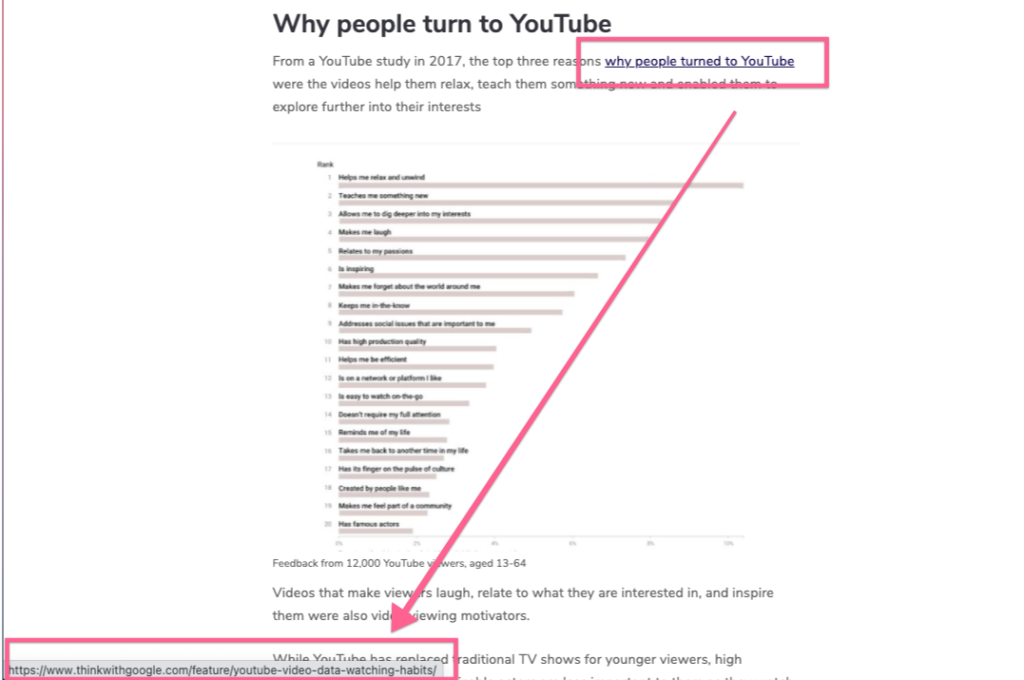 External non-text link
You can also choose to embed a URL from a picture or embedded video in your text.
Alternatively, you can add a banner and hyperlink it to another URL.
Do I need permission to link to other people's websites?
Nope, you don't have to.
As long as the websites that you are linking out to are found in the public domain, then it is not an issue.
It only becomes an issue when you are not linking out but rather plagiarizing content.
But let's say if you choose to embed an image or video with copyrights on your site as a point of reference, I highly recommend you to send them an email to request usage permission.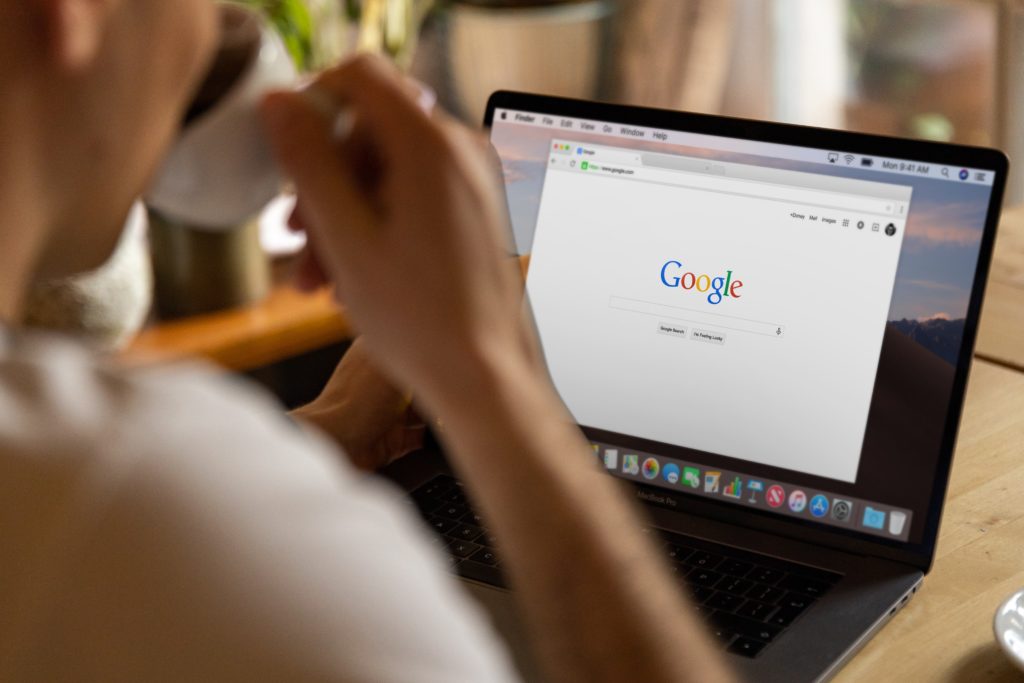 Does linking out helps SEO? (i.e. What Google thinks when they see external links?)
Google loves it! You might wonder, why is that so?
By embedding external links in your text, you allow Google to gain insight into the context of your article.
They can then use this information to determine how and when to surface your article on the search results page.
Links to reputable websites show Google that you did your research and hold some credibility.
In each blog post, all of the above factors may impact your page ranking, so choose your external links wisely.
What your readers think about your external links
It's not just about what Google thinks.
Your reputation also hinges on how your readers see the external links you've put up. The best blog content offers readers a new understanding by expanding their knowledge.
Linking to other websites shows you've done your homework and want to cite other specialists.
People make the biggest mistake by not linking to any external links because they're scared of losing visitors or helping their competitors.

What they don't realise is, SEO is all about building authority in your space.
When we build up authority, we can work with those who offer products and services that don't directly compete with ours.
Another way you could do it is just to link out to established institutes and associations.
Put your energy into finding high-quality resources, because what you recommend says a lot about you.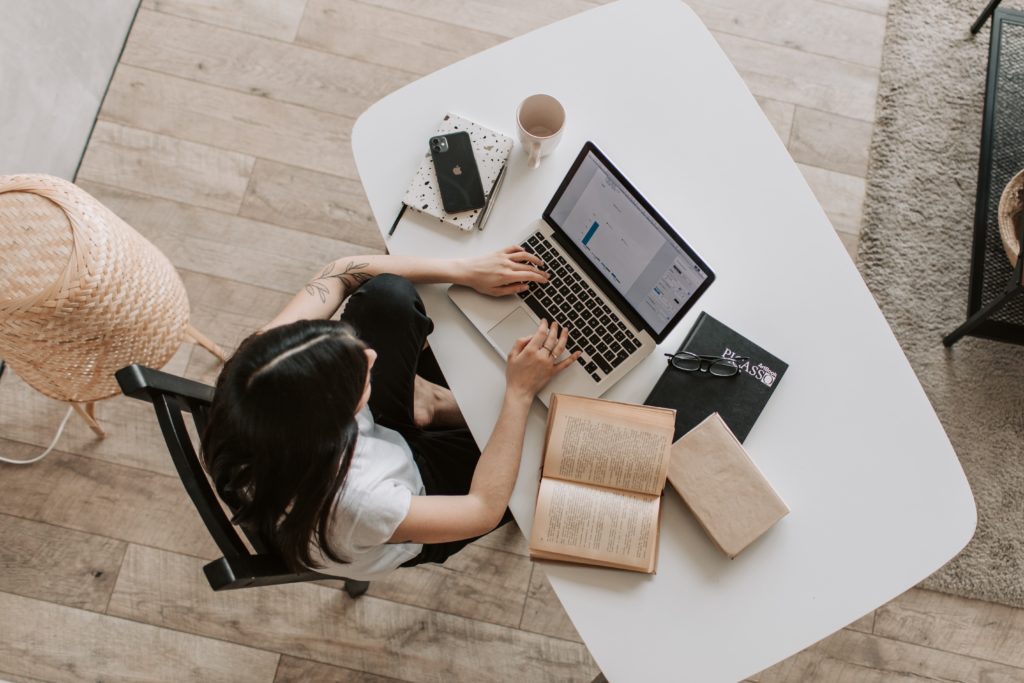 Best Practices for external blog linking strategy
Now you are aware of the many benefits of linking to external websites, I'm sure you are ready to embrace this external blog linking strategy to boost your google rankings.
Before you get cracking, are you aware that there is an optimal number of outbound links that work best for each article?
How many outbound hyperlinks should you have for each article?
If your article contains
less than 500 words, aim for 1 to 2 links.
between 500 to 1000 words, 3 to 4 links is about right.
between 1000 to 2000 words, 5 to 7 works well.
between 2000 to 3000 words, 8-10 links are sufficient
Go for the rule of thumb with 1 link every 300-350 words.
It doesn't need to be an external link all the time. If appropriate, you can swap in an internal link to one of your other blog posts or pages instead.
Can I link to the same external article many times within one blog post?
Yes you can do that. But under SEO best practices, you shouldn't.
In the academic world, it's common to cite the same resources a few times for multiple pieces of information.
However, within a blog post, you can mention the same external article multiple times but only hyperlinking it once.
There's no need to repeatedly link to the same source in an article in multiple instances - unless you are using a different set of anchor text.
Else this can appear spammy to Google.
Review your outbound links regularly
During every six months to a year, review your external links. You should make sure your blog posts link to websites that are still active.
You might find that the URL of external articles has changed, or the articles may have been taken down. You will then have a broken external link.
When a visitor clicks on a broken link, they will most likely be directed to an error page stating that the page does not exist.
People click on links (which either lead to or from your site) because they expect to see the content behind the link and are interested enough to read it. They will be left disappointed and possibly less trusting of you if it turns out to be an error page caused by a broken link.
In any case, if you have a lot of broken links on your site, it can impact your SEO. There's a reason for that, too. Google's web crawlers collect data from your site for your ranking. The last thing they want to do is send users to a broken link.
That's why it's so important to avoid linking out to broken content and don't have broken pages on your own site.
Sending customers (and Google bots) to broken pages will hurt your site.
Broken links on a website are a nightmare when it comes to providing a good customer experience - you don't want to frustrate customers, and you don't want to hurt your search engine ranking, so make sure to fix them regularly.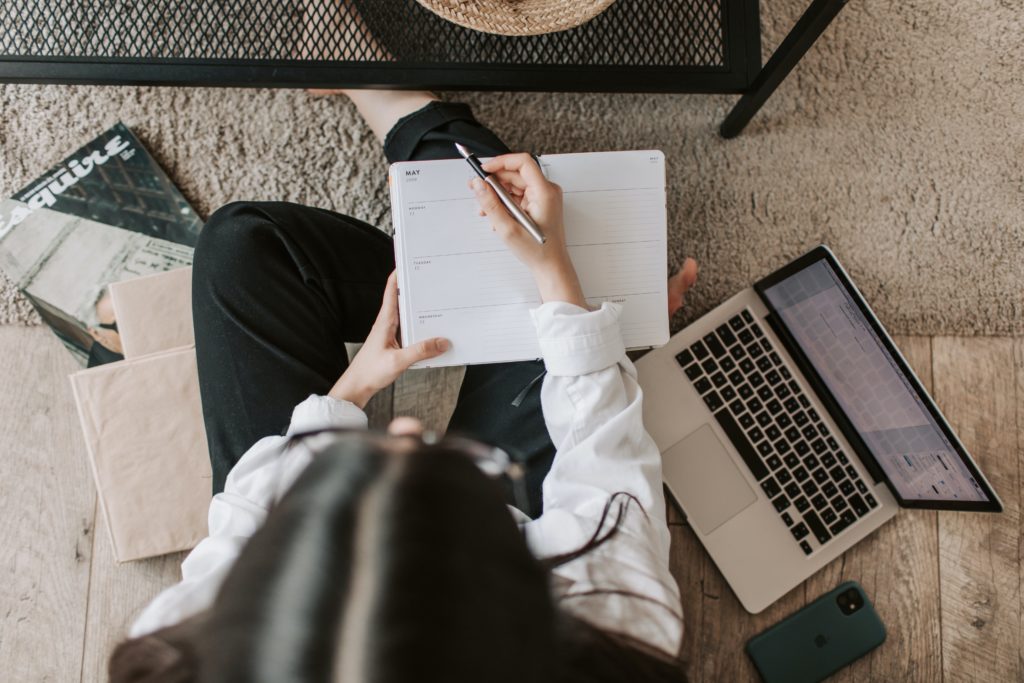 The power of outbound links shouldn't be underestimated
Linking out to other sites in your articles is a great undervalued SEO strategy.
Not only does it add depth and value to your content, but it also helps Google rank your content better.
With the right external linking strategy, you create a win-win situation that benefits not only you but also those related to you.
Are you determined to get your blog articles on page one? I urge you to bookmark my other articles:
If you need a hand to turbo-boost your blog posts to Google page one, my personalized Blogging Success Workshop might just be the answer for you.
Good luck with your blogging!