Work With Me
I love working with businesses to put the marketing pieces together.
Marketing is not just writing blog posts or having a website. It's more than that. Each of them individually by itself doesn't work.
Great marketing involves putting together a system that works to get a healthy flow of customers.
I work with small and medium-sized businesses who
are not sure where to focus their marketing budget on
have problems with getting their marketing to work
have problems getting Google traffic
are not getting found online
needs a marketing plan
want to grow their email list
want to make social media work for them
I'm committed and determined to make marketing work for your business.
My Unique Approach
A good effective content marketing strategy can be a huge investment of time and money. Many times you might wonder how do you know if it's working?
Or how do you know when a strategy is not performing as expected?
This is where I come in.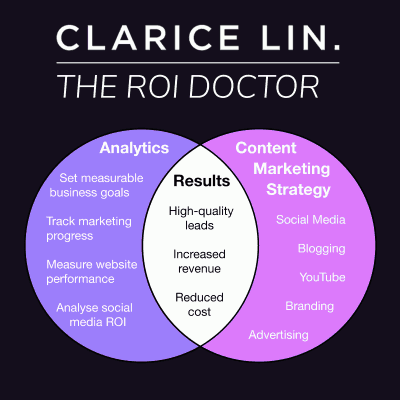 I combine both my marketing and analytics expertise to craft marketing plans that focuses on getting the best results for your business.
I advocate setting of clear marketing objectives and a transparent tracking plan to regularly monitor and review marketing progress.
My goal for each of my clients: high quality leads, increased revenue and reduced cost.
If your business goals happen to coincide with mine, head on to the next step.
Your Next Step
No two clients or businesses are the same.
I don't go into a cookie-cutter industry folder and pull out a templated approach.
Instead, I listen to your objectives, and map out a custom solution that is going to help you do business better and return your time back for you to focus on your business.
If you are not seeing results from your marketing efforts and don't know what to do next, check out my packages below.
My Signature Programs
These are my most signature programs for those who need marketing expertise to turn your business around and start attracting high quality prospects to your doorstep.
Content Strategy
marketing
signature
Ads
discovery
free consult
MAQTOOB
Article
For Shopify, Woocommerce or Bigcommerce store owners who want your products to be listed on Google Search and Google Shopping tab, this is your one-stop solution.